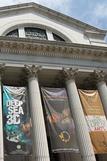 Washington, DC, the capital of the United States, is a truly cosmopolitan city with many points of interest. Students can visit the U.S. Capitol building and see Congress in session; they can tour the Supreme Court and learn about the U.S. system of justice; or they can visit the city's many free museums, including the National Portrait Gallery, the National Museum of American History, the Air and Space Museum, and the National Museum of Natural History.
Some of the most beautiful sights of the city are monuments to American leaders and heroes: the Washington Monument, the Lincoln Memorial, and the Vietnam Memorial, to name a few. Students can enjoy concerts at the Kennedy Center, festivals on the National Mall, wildlife at the National Zoo, and nightlife in Georgetown and Adams Morgan. They can also visit a variety of parks and bike trails and travel to beautiful mountains and beaches located only a few hours away.
Spring and fall are lovely, with temperatures averaging 67F/20C. Summers are hot and humid, with temperatues averaging 85F/30C, while the winters are mild with temperatues averaging 20F/-7C to 40F/4C, but be prepared for snow! See the Quick Links for more information on Washington, DC.