Alumni Profile
Brett Smock, CAS/BA '92: From Dancer to Producing Artistic Director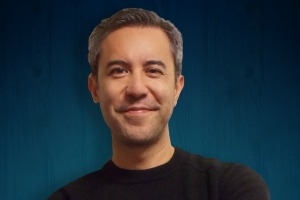 "I remember getting out of the car and walking across the quad and immediately having this sense that things felt right." So says alumnus Brett Smock, CAS/BA '92, about his first impression of AU.

As the son of a diplomat, born in Hawaii but raised predominantly overseas, Brett enjoyed living in countries such as Libya, Pakistan, Israel, and France. During his junior year in high school in Singapore, he took a two-month tour of select U.S. universities – starting at UCLA and ending at NYU. His second to last stop was American University. "I am someone who listens closely to my gut reaction, and it has never let me down. I went back to Singapore with AU on the brain; and well, the rest is history."

Training with hopes to be a professional swimmer, graduating from AU as a theatre major, and then becoming a dancer, Brett realized that he also enjoyed the business side of theatrical companies. In June 2014, he assumed the role of producing artistic director for The Finger Lakes Musical Theatre Festival, a three-venue operation, after working with the company for almost 30 years. 
Brett now oversees a budget of roughly $5 million and a staff of approximately 20 that grows to a company of over 250 at the height of the season. This includes overseeing all of the Festival's artistic and business components at its location in Auburn, NY. Auburn, located in central New York on one of the Finger Lakes, is an historic city where Harriet Tubman and William H. Seward lived while helping lead slaves to freedom on the Underground Railroad.  
Much has changed since the time when Brett first started at this playhouse. He recalls actors brushing their teeth in a spigot in the yard. Now, alongside a renovated 500-seat, state-of-the-art facility, two more venues have been added. In line with his organization's mission, Brett says, "When the arts flourish, so do local communities. That's exactly what we've seen happen. Auburn is thriving. [It's] certainly not entirely as a result of the arts, but we're a driving force."
In terms of his goals for the coming years, Brett is focused on growing the festival's audience, developing the next generation of theatre-goers, introducing important works of musical theatre, and developing musical theatre writers. The company operates on three stages and plays to audiences of more than 65,000 each season. "We're an arts organization and our sole task is to create terrific theatre. That is my mantra and my light in the storm. If we do that and we provide theatrical excellence, the rest will organically follow," says Brett.  
Brett has returned to AU many times since graduating more than 20 years ago. He has served as a guest director and as a choreographer several times – beginning almost immediately upon his graduation and continuing to the present. Brett has gratitude for his time at AU and likes to support other AU alumni whenever possible. "I am a product of that investment – not only by the faculty but by the institution itself. AU has given me a lot and I feel, as a leader in the arts today, an incredible responsibility to pay that forward as well as pay that back to AU in every way," he says. 
Brett splits his time between homes in New York City and Auburn. He spends more time in Auburn as a result of this position but gets back to the city whenever possible. He admits to being a workaholic and recalls training heavily in his youth with hopes of being an Olympic swimmer by swimming daily, both at 5 a.m. and immediately following school. He brings a lot of passion to his work in theatre. "If you don't get out of bed and run to work, what are you doing?" he asks.