Alumni Success Story
Lori Interlicchio, SBA/BA '15: Tinder leads to a Living Gift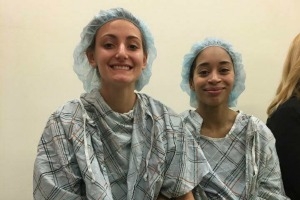 "I hope that someone out there sees our story and makes the decision to donate their organs or become a live kidney donor," says Lori Interlicchio, SPA/BA '15, while describing her gift of a kidney to girlfriend, Alana Duran, whom she met last August on Tinder.
Three months after their initial meeting, Lori videotaped Alana opening a box of small presents (including an AU t-shirt) with an "it's a match" sign hidden at the bottom. The video, viewed over 260,000 times on Facebook, captured the news that Lori was going to provide Alana the kidney she so vitally needed. "I was pleasantly surprised by the outpouring of support that Alana and I received after we posted our video. I expected our family and friends to love the video, but I didn't think we would go viral and certainly not that quickly," she says.
Diagnosed at age 12 with Lupus, an autoimmune disease, Alana has required a hip placement, a pacemaker for congestive heart failure, dialysis for kidney failure and has been awaiting a kidney donor since 2011. Alana had no idea Lori was secretly being tested to see if she would be a match to donate a kidney.
On February 2, this long-awaited kidney transplant was successfully completed at Stony Brook Hospital in Stony Brook, NY, and both women are recovering well. "Alana's kidney function was higher than mine," noted Lori shortly after the procedure. During their recovery, Lori will take 6 weeks leave from work and needs to avoid lifting heavy objects. For the next 6 months, Alana has to avoid people who are ill since she's now taking immunosuppressant drugs every day to avoid rejection of her new kidney.
Born and raised in West Islip, NY, Lori decided to attend the School of Public Affairs at American University because she wanted to study political science and felt that Washington, DC, was the best place to do it. "I liked that it had a campus feel while being in the city. It was the best of both worlds," she adds.
While at AU, Lori was very active as a cheerleader and enjoyed competing with her team at the National Cheerleaders Association championships in Daytona each year. "The team was like my family, and Nationals was the culmination of all of our hard work each year," she adds. When the weather was nice, Lori recalls meeting her teammates on the quad for impromptu practices where they would "throw each other around".
One of her most memorable experiences as a student was camping outside of the Supreme Court with a few other AU students to observe the oral arguments in Obergefell v. Hodges, the case that made marriage equality legal in the United States. Lori also led an advocacy group at AU called "Red is in the Rainbow". This group held blood drives on campus to spread awareness and speak out about the ban on blood and tissue donation from gay men. "It bothers me that if Alana and I were a couple of gay or bisexual men, rather than women, I couldn't donate blood to her. My kidney would be considered high risk," she exclaims.
After graduating last May, Lori has spent the past year in her hometown coaching cheerleading at her old middle school and working in a special needs high school while applying to law school. In her spare time, Lori describes herself as "a homebody." Lori and Alana spend most weekends with their families - reading, playing board games, and working on puzzles together.
Her plans for the future include graduating from law school and passing the bar exam. "After that, I would love to do public service work litigating on behalf of LGBTQ people and families," she says.