Alumni Success Story
Melissa Ramos, SPA/BA '16 wins first AU Latino Alumni Alliance Book Award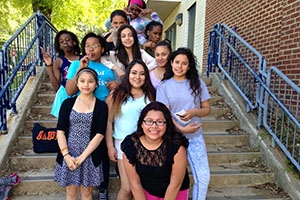 When the AU Latino Alumni Alliance worked with the Office of Campus Life to advertise its newest student support and engagement program, the volunteers were floored with amazing student response.

With a strong academic record and clear passions for the Latino community, Melissa Ramos, SPA/BA '16 was selected as the first recipient of the AU LAA Book Award.

Between her summer internship and her part-time job at The Madhatter, we recently caught up to Melissa to learn a little bit more about her, her leadership, and her dreams.

Introducing a Rising Star...

AU: Congratulations on your award, Melissa. Can you tell us a little about yourself?

Melissa: I'm the second of five children, and I grew up in the suburbs of Los Angeles, a place called Downey, California.

AU: How did you discover American University?

Melissa: It's actually quite amusing how I discovered American University. I had been flipping through a "Back-to-School" issue of Seventeen magazine, and in the fall there is a panel of women who document their first year of college. One of the women happened to be going to a school named "American University. " I started researching online, and that was when I knew I wanted to be in Washington D.C. for my undergraduate years.

AU: What motivated you to select your degree program?

Melissa: Politics has always intrigued me, even as a little girl. Growing up I was a history buff and I found the mechanisms of the law and government fascinating. I was motivated to study public policy because of the impact policy has on the public's well-being. I found myself passionate about education policy because students around the country are not receiving education that they are entitled to, and education plays an important role in where one ends up later in life. I am all for breaking the status quo, and I think education can have a great impact on that. I am also interested in government intelligence and drug policy. I'm not too sure if these all relate, but I'm sure I can make it work.

AU: In what student organizations are you involved on campus, and what (current or past) roles do you hold?

Melissa: I am a member of Latinas Promoviendo Comunidad/Lambda Pi Chi Sorority, Inc. I am the chapter's previous and current treasurer, and I am also the alumnae relations chair. I am a member of the School of Public Affairs Leadership Program, which seeks to provide students with the skills they need to be successful leaders in public service and in life. In the past I was a member of the fundraising committee within the SPA Leadership Program.  

AU: Can you share a unique fact about you that few people know, but many may find interesting to know?

Melissa: Few people know that I know how to play the violin. I have been playing since I was five years old. I haven't been playing as much since starting college and being busy, but it is definitely something that I am passionate about. I used to do performances growing up, and somewhere there are embarrassing videos of me performing through the years, but it is one of my forms of expressions, and I am proud of it.  

AU: If you were to create your future with a magic wand, what three tasks or experiences would you accomplish?

Melissa: The first experience I would create would be to travel the entire world. I love experiencing new cultures and new foods. I want to be able to immerse myself into different cultures around the world and see the beauty in each culture. Also, the world just has so many beautiful places. Second, I would start my own law firm in Los Angeles. Last, I would like to start a nationwide female empowerment program for girls of color to be able to find mentors in everyday women who have faced adversity and are now thriving.

AU: Kudos to you, Melissa, for your great work so far. Great things are in store for you.