Alumni
Meet Sirah Bah, recipient of the 2015 AU Alumni Association Scholarship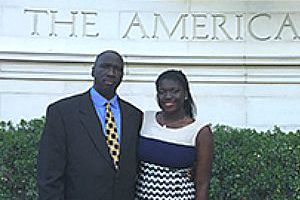 "Whenever he would talk about his time as an Eagle, his whole face would light up. He would reminisce about his favorite parts on campus, or about his professors, or the friends he made while he was a student," says new student Sirah Bah, CAS/BS '19, who is continuing the legacy of attending American University begun by her father in the late 1980s. 
The daughter of Alpha Bah, CAS/MA '90, Sirah is the 2015 recipient of the Alumni Association Scholarship and describes wanting to be part of the same AU community as her father. "To see the glow that a school could leave on a student almost 30 years in the future was truly inspiring, and a huge factor as to why I decided to attend AU," exclaims Sirah.  
Another reason she decided to enroll at AU was its location in DC. Although she grew up in Silver Spring, Maryland, with "DC in her backyard," Sirah is looking forward to living at AU and exploring everything that Washington has to offer. "Attending a school in DC allows me several unique opportunities that I would not be able to receive if I were to attend a school outside of this city," she says.
AU has always been a part of Sirah's life. "I'm sure that I visited campus the first time when I was a baby due to my father attending alumni events," she says. Then, when she was seven or eight years old, Sirah's father decided to show her a "special place" during a drive through DC at night. "I saw campus for the first time and I thought it was so beautiful with all the trees, flowers, and lights illuminating the campus at night," adds Sirah.
When she's not on campus, Sirah plans to spend time visiting Capitol Hill, Eastern Market, and "the great museums that DC has to offer". She also looks forward to experiencing the election season this coming year. "I am excited to see the many active groups on campus holding events and to see how the city transforms during this very special season," she adds.  
The Alumni Association Scholarship provides financial support to students whose parent or grandparent holds a degree from American University. The scholarship, worth $5,000 per year toward tuition, is renewable for a maximum of four years and is funded through the AU Alumni Association Endowed Scholarship Fund and the Alumni Audit program. 
The scholarship is awarded based upon the student's academic record, demonstrated leadership abilities, connection to American University, and an essay describing how their parent's or grandparent's experience at AU influenced their own decision to attend AU. 
While at AU, Sirah plans to major in biology and perhaps double-major in Spanish at the College of Arts and Sciences. She is extremely passionate about healthcare and infectious diseases and would like to donate her time to help others. Sirah hopes to use her studies in biology and Spanish to travel to Latin America and participate in research relative to infectious diseases and women's healthcare. "After I graduate, I would like to attend medical school, eventually become an infectious disease doctor or an OB/GYN, and be a part of Doctors without Borders," says Sirah.