Alumni Success Story
Unlocking Opportunities: Advice from Alumnus David Teslicko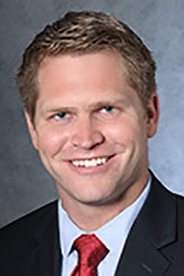 When David Teslicko, SIS/BA '09, WCL/JD '12, first visited AU's campus the summer before his senior year in high school, he says the campus was "welcoming" and "warm" and that he was "excited to be at AU." It was this feeling that not only solidified his love for the campus, but also his choice to obtain two degrees here. He wanted to study at a place that "had both that sense of community, of public purpose, and a general approach to ensuring that everyone succeeded together."
This sense of empowering students to meet their goals has stayed with him since he graduated. He reflected on his experience as a Student Trustee, working with the board on a strategic plan for the university that struck a balance between extracurricular activities and academics. He remembers being moved by the board's mission to "ensure that the university supported students both inside and outside the classroom to create holistically developed young adults to go out into the world."
Following his undergraduate commencement, David stayed involved with his fraternity, Sigma Phi Epsilon, as part of their Alumni and Volunteer Corporation. He remained active with them throughout law school and his move to New York. In New York, he also became involved with the Young Alumni Chapter and focused on growing the organization and creating programs to reconnect alumni with AU. This desire to build a sense of community among alumni drove him to further engage with AU as a member of the Alumni Board.
David is now an associate at Sullivan & Cromwell LLP. He works on a variety of matters, including antitrust clearances for proposed mergers, investigations of alleged cartels, and white-collar fraud. Work allows him to travel around the world, but David says his favorite part of the job is the people with whom he works. "It's a group of highly motivated, really intelligent individuals, who at the same time are very welcoming, open, and supportive. [They are] really focused on creating teams that work well together and can help each other succeed in the firm."
David got a start on his career during law school. He worked as a summer associate at a law firm that hired him through the on-campus recruitment program at the Washington College of Law. Directly following his graduation, he worked and traveled with a federal judge on the U.S. Court of International trade who had also hired several other AU students in the past. He assisted her on several cases on the Court of Appeals for two years before returning to his firm.
In giving advice to students who may want to follow in his footsteps, David remarks that it's important "to look for opportunities out there. Even if an opportunity doesn't immediately seem like it's going to contribute to your ultimate career path; be open to those opportunities because you never know what kind of resources, skills, or connections you might make that somewhere way down the road would be super important to you or useful in getting you to the place that you ultimately want to be."