Alumni
Alumna gives back to AU by volunteering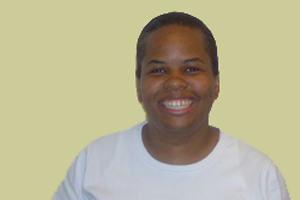 Jolene McNeil, SPA/BA '97, is just one of many alumni volunteers who will play a pivotal role this year in the success of AU's biggest annual celebration: All-American Weekend.

All-American Weekend, which brings alumni across the U.S. back to campus, is a wonderful opportunity to reconnect and reminisce with old classmates, professors, staff, and others who contribute to the experience of AU. "All of my favorite memories [began] in the residence halls," says Jolene, who is also active in the Alumni Admissions Volunteers program. "My group of friends and I called it 'fun-nothing.' Generally we just hung out in a hall lounge and played music or cards. But it was in these moments that we built our friendships." She and her sister Jolon were known to most as "the twins" on campus.

Jolene, an event planner in the D.C. area, attributes her success to her education at AU. During her time at AU, she was an active member of Alpha Kappa Alpha Sorority. "My experience as a student leader at American University proved to lay the foundation for my career as an event professional. As a student leader, I was able to create and implement lots of programming with the support to either succeed or fail. I developed most of the personal protocol about developing events as a student at AU."

It is because of these experiences that Jolene decided to reconnect with the university through volunteering. "Giving back through volunteering is important to me because I think it's imperative for students to see the totality of diversity of the American University community," says Jolene. "As [alumni] we are uniquely situated to provide honest commentary and advice for current and future students by sharing our stories. Additionally, we can give a voice to the concerns that we had as students, that may not have been heard, but that can be of benefit to students."

Jolene isn't alone in her reflection on memories and experiences at AU. She and many other alumni who serve as co-chairs on their class committees are looking forward to All-American Weekend. "I'm most excited about helping to plan and promote a comprehensive and inclusive weekend for the AU community," she says.

Jolene believes that everyone should give back to their alma mater through volunteerism. "I think AU [alumni] should consider being involved with the Alumni Association because it's a [great] way to give back. The Alumni Association is a great way to network and keep in touch with old friends."

If you're a member of the classes of the 1990s, 2002 or 2007, you can join Jolene and other alumni volunteers on class committees to make sure that your fellow classmates have a wonderful experience. If you're interested in volunteering, please contact Carlita Pitts at cpitts@american.edu or 202-885-5902.