Student Success Story
Meet Alex Li, 2017 recipient of AU Alumni Association Scholarship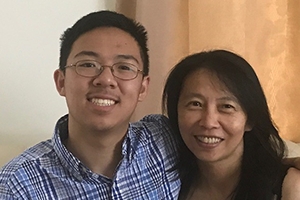 "I chose AU because I liked the campus and the SIS programs," says incoming freshman Alex Li, SIS/BA '21, who is continuing the legacy of attending American University begun by his mother in the 1980s. He recalls first seeing DC and the National Air and Space Museum at the age of six while visiting his grandparents who reside in Maryland. "A few years later, I visited AU with my mother to see where she worked. I found that it was a beautiful campus located in DC," added Alex.

The son of Mengchen Chen, Kogod/BSBA '88, CAS/MA '91, Alex is the 2017 recipient of the Alumni Association Scholarship and describes wanting to be part of the same AU community where his mother studied and worked as an assistant to two CAS academic advisors. "There were many stories about her work at the counselors' office. The most fulfilling part was the people she met-students with hopes and dreams. Now I am one of them," he exclaims.

Born and raised in New Jersey, Alex is excited by the opportunities that living in the nation's capital will offer him as a student. He's especially interested in visiting the Smithsonian as well as the Spy Museum while studying international affairs at the School of International Service and will "possibly look into the business side of global economics," he adds.

The Alumni Association Scholarship provides financial support to students whose parent or grandparent holds a degree from American University. The scholarship, worth $5,000 per year toward tuition, is renewable for a maximum of four years and is funded through the AU Alumni Association Endowed Scholarship Fund. "I will be able to use this money to pay off any loans and focus more on my education," says Alex.

The scholarship is awarded based upon the student's academic record, demonstrated leadership abilities, connection to American University, and an essay describing how their parent or grandparent's experience at AU influenced their own decision to attend. In his essay, Alex described his mother as his inspiration. "I applied to American University because of her. She inspires me because of her passion to learn, which was sparked by her years learning and working at AU," says Alex in his essay.

Alex hopes to visit several countries in Europe or Asia in order to decide where he will study abroad as a student. "After graduate school, I am considering jobs that deal with global economics and technology," he declares.