Alumni Success Story
Meet New Alumni Association President Andrea Agathoklis Murino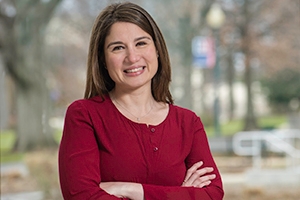 Andrea Agathoklis Murino, SPA/BA '98, says she owes much of who she is to AU. "AU, for me, was really about learning what opportunity means—taking diverse classes, meeting people who were raised differently…There really was no better launching point for the rest of my life," she says.
After graduating from law school, Murino quickly came to realize how much she had benefited from her time on campus. "I had this network of friends and faculty," she says. "I had learned so much during my time there that I really felt like it was appropriate for me to give back. So many of the gifts and blessings that I count today came from my time there." 
Murino began volunteering for AU through the School of Public Affairs. "I felt like the university was really benefiting from it," she says, so she decided to look for other opportunities to be involved. 
After four years as a member of the Alumni Board, including service as its vice president for the past two years, Murino will begin service as its president in January. She says she looks forward to helping engage more alumni in the life of the university. "I think AU as an institution is at a turning point," she says, adding that "The Alumni Board is able to help AU achieve that next level." 
Murino actively encourages other alumni to get involved. She wants her fellow alumni simply to visit the alumni website, take a look at the volunteer opportunities, and to reach out to her personally with questions and ideas. "Because AU is such a dynamic institution, it really doesn't matter what city, state, or country you're in, we're going to be able to find an opportunity for you to be involved. Just give us a chance to find that match," she says.