Alumni
Meet Annika Hemdal, 2016 recipient of AU Alumni Association Scholarship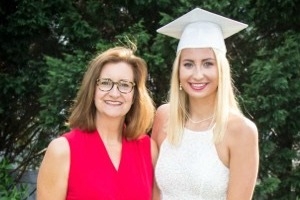 "When I was touring universities my senior year, AU's campus felt the most like a family to me," says freshman Annika Hemdal, SIS/BA '20, who is carrying on the legacy of attending American University begun by her mother in the late 1980s. "My decision to attend AU is also rooted in my passion for international service, AU's superior program for international studies, and the opportunities it provides," added Anniika.
The daughter of Stephanie Hemdal, SPA/BA '90, Annika is the 2016 recipient of the Alumni Association Scholarship and describes wanting to be part of the same AU community as her mother. "My mother sparked my interest in AU when she told me about her professors and how connected they were to social movements and the political world. It made me excited to think about interacting with such professors who are so skilled in their area of study," she says.
Annika is energized by the opportunities that living in the nation's capital offers. "I am excited to experience and be active in political movements and demonstrations. I want to be a part of igniting social change and being in DC is the perfect place to start," she exclaims. But, politics is not all that interests Annika. She is a member of the AU club volleyball team and when not on campus, she plans to spend time visiting some of the shops not common in her home state of Pennsylvania "I'm looking forward to visiting various market places around DC - from farmer's markets to thrift shops," she adds.
The Alumni Association Scholarship provides financial support to students whose parent or grandparent holds a degree from American University. The scholarship, worth $5,000 per year toward tuition, is renewable for a maximum of four years and is funded through the AU Alumni Association Endowed Scholarship Fund and the Alumni Audit program.
The scholarship is awarded based upon the student's academic record, demonstrated leadership abilities, connection to American University, and an essay describing how their parent's or grandparent's experience at AU influenced their own decision to attend AU.
While at AU, Annika plans to study international relations with a focus on China and global development at the School of International Service. She hopes to intern abroad during the summer and work for an international service organization like the Center for Global Development or the U.S. Agency for International Development (USAID) when she graduates. "I am passionate about traveling abroad and integrating the Mandarin language to be able to help those in need," she says.