Alumni
East Campus Construction is Underway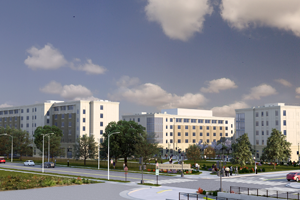 A trip down Nebraska Avenue just isn't the same anymore. What was once a large university parking lot at the corner of Nebraska and New Mexico Avenues is now an excavation site secured behind a construction fence. This summer, excavation began on the former parking lot, which will soon become the new East Campus, set to open in 2016.
Upon completion, East Campus will consist of three new residence halls as well as two academic and administrative buildings. The residence halls will be suite-style halls designed specifically to house upperclass students. There will be a small fitness center on site, as well as a retail outlet to support the needs of the students living in the halls. 
The Don Myers Technology and Innovation Building and the additional academic and administrative building will provide new, state of the art classroom and laboratory space for several departments from the College of Arts and Sciences. The Department of Public Safety will also be relocated to one of these buildings. 
As part of American University's commitment to carbon neutrality by 2020, the East Campus buildings are being designed and constructed with the hope of obtaining LEED Gold certification. Additionally, the campus will contain a largely planted plaza in the center of the buildings, which will help the campus look and feel similar to the rest of campus across Nebraska Avenue. 
While many of the plants and trees on the Nebraska Avenue parking lot had to be relocated during construction, the site will be replanted. The university relocated 24 mature trees prior to construction, and those will be returned to the East Campus area upon completion of construction. 
The site plan calls for a landscaped area between the neighboring townhomes and the East campus buildings, and the university will continue to enhance plantings in that area to serve as a buffer through all seasons. The site plan also includes the restoration of 300 parking spaces to the East Campus, including 150 underground spaces. However, the entire lot will remain inaccessible to visitor parking during construction. During this time, short-term visitors to campus are encouraged to utilize the visitor parking spaces in the Katzen Arts Center Garage and the School of International Service Garage. 
For now, visitors to campus will not see much change beyond the construction fence. The builders have secured approvals to begin excavation and bring the foundations to grade, and that largely underground work will continue through February 2015.