Alumni
Greetings from Andrea Murino, SPA/BA '98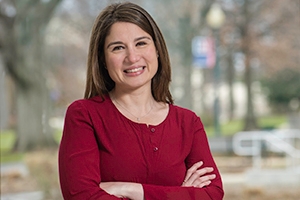 At its core, AU is a place where students of all backgrounds and experiences come together to learn about each other and the wider world. This is not always easily accomplished as events on our own campus, in the United States, and around the globe make clear. But I hope that we can all take great pride and comfort in knowing that AU has been and will remain committed to fostering inclusion for all students, regardless of race, sex, ethnicity, sexual orientation, religion, or political ideology. 
We have much to be proud of as alumni of AU, and I would encourage you to read this issue of the Alumni Update to be reminded of that fact. Here, you'll find stories about the gift of a local landmark to AU, students who were featured in CNN's We Will Rise film, and Tony Goldwyn's visit to AU during All-American Weekend.
You'll also find a link to photos from last month's All-American Weekend celebration. It was an amazing weekend filled with love and pride for this university. I was especially pleased to honor our president with the Alumni Achievement Award and to announce that it has been renamed the Neil Kerwin Alumni Achievement Award in his honor.
Please come out and celebrate Dr. Kerwin's leadership as we continue hosting events in his honor around the country. Just last week, we honored him in New York, and on December 1, he will meet alumni, parents, and friends in Philadelphia. He'll also visit LA, San Francisco, Miami, and Chicago before wrapping up the series at home in DC. I hope you'll join us at one of these truly special events.
Best wishes to you all for the start of a happy holiday season,
Andrea