Alumni Relations
4400 Massachusetts Avenue NW
Washington
,
DC
20016
United States
Greetings from Joe Vidulich, SPA/BA '08 President of the Alumni Association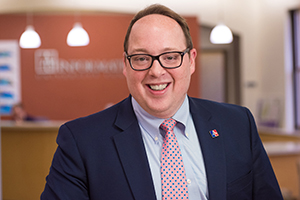 Happy New Year, fellow alumni! I'm excited for another year of service to AU alongside so many of you who give back to our alma mater.
As you know, we welcomed a new leader to the helm at AU in 2017. President Sylvia Burwell will be officially inaugurated this spring—on Thursday, April 12. Please save the date and plan to be on campus to celebrate her leadership and vision for our university. We'll also #WelcomePresidentBurwell at receptions across the country, beginning February 1 in
Fort Lauderdale
, Florida. (She'll also be in
Philly
later in the month, and more dates will be added in the coming weeks.)
As always, the new year also brings change to the
American University Alumni Board
. Later this month, we will thank outgoing members for their service to the AU community.
Amy Jones, SPA/BA '99, WCL/JD '03, Nick Kuhn, Kogod/MBA '85, Kevin Malecek, SPA/BA '01, SPA/MA '02, John Morada, CAS/BS '00,
and
Alexa Pappas Zannetos, SPA/BA '90,
have served our alma mater with distinction, and we appreciate their time and energy.
We'll also welcome our newest AUAB members:
Paul Bamonte, SPA/MA '17, Eugene Costa, Kogod/BSBA '77, Adam Katz, WCL/JD '86, Daniel Leon-Davis, SIS/BA '13, Irene Magafan, CAS/BA '02, CAS/MFA '12, Sherry Soanes, WCL/JD '97, and Danielle Vogel, WCL/JD '07.
These alumni participated in a competitive application process and now have a unique opportunity to give back to the university. If you are interested in learning more about the board, please do not hesitate to reach out to me or any of your board members.
Other news from on campus includes the naming of Vicky Wilkins as dean of SPA and our upcoming Founders Day giving event. It's also time for our annual #AUSweethearts celebration on social media, so if you met your better half at AU, I hope you'll consider sharing your story. You'll find details of these and other news items in this month's newsletter.
I look forward to working with you in 2018!
- Joe