Alumni
Doubling a Lasting Legacy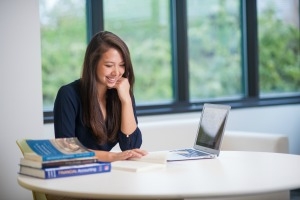 "We gave a gift to the Legacy Scholarship initiative because we wanted to support legacy students who may not have the good fortune of attending AU without this scholarship," says Jackie Cirillo-Meisenberg, SOC/BA '87, and co-chair of the AU Legacy Alumni Network.
Due to generous donations from alumni like Jackie, the American University Legacy Scholarship initiative is more than halfway to its goal of doubling the number of Alumni Association Scholarship recipients.
American University values the legacy of an AU education, passed down from generation to generation. Investing in legacy students who need financial help to follow their parents or grandparents to AU is the goal of this new initiative.
"Giving to the legacy fund was a no-brainer for me. I wanted to give to a fund which supports kids who put their trust in AU, as their family has before them, to provide them with a great education and life skills," says Christine Moo-Young, Kogod/BSBA '87, mother of the 2013 recipient of the legacy Alumni Association Scholarship, Hailey Russell, Kogod/BSBA '17.
Begun in 2008, the Alumni Association Scholarship is funded by the Alumni Association Scholarship Endowment. This $20,000 scholarship is currently awarded every other year to a legacy freshman and is divided over four years. 
The goal of the Legacy Scholarship initiative is to raise enough funds so that this legacy scholarship can be awarded annually instead of every other year. Scholarship recipients are selected based on their academic record, involvement in leadership and community service activities, and demonstrated financial need.
Since the initiative's launch in October, numerous alumni donors and members of the Legacy Alumni Network have made generous contributions to this scholarship. The LAN includes alumni and students who are the children, grandchildren, parents, or grandparents of an American University alumnus/a. It recognizes those families who've made AU a family tradition. There are currently more than 1,600 AU legacies with 127 legacy undergraduate and graduate students on campus.
"We are filled with pride as Ozzie approaches graduation next year. Watching him mature and gain more confidence with every passing year, make us realize AU was the perfect fit for him," says Linda Lupo-Rodriguez, SOC/BA '87, co-chair of the AU Legacy Alumni Network and mother of Ozzie Rodriguez, Kogod/BSBA '16.  
The LAN helps legacies stay in touch with the university and with one another through special events and networking opportunities. This network is another way to strengthen the bond between the university, our alumni, and our students. "Having Hannah attend AU has given me an opportunity to fall in love with the university all over again," says Jackie of her daughter, Hannah Meisenberg, CAS/BA '15.
There are several LAN activities that take place annually. During All-American Weekend, legacy students and alumni are invited to celebrate at a Legacy Breakfast and Pinning ceremony. At this event, students and alumni are presented with a specially designed legacy pin by their AU alumni family members.
During commencement weekend, legacy seniors are recognized at Toast to Graduates and their commencement ceremony for their family's custom of attending AU. While reflecting upon the upcoming graduation of his daughter, Kiera Russell, SIS/BA '15, Michael Russell, Kogod/BSBA '86, says, "AU has prepared her well for her upcoming professional career. Because she has a solid academic foundation, she will succeed in whatever path she chooses. And along the way, she will continue to be an ambassador for AU."
The 2015 awardee of the Alumni Association Scholarship will be chosen this month and announced in May for the incoming Class of 2019. With the legacy scholarship initiative currently on track to reach its required endowment for an annual recipient, it's hoped that a Class of 2020 scholarship could be granted at this same time next year. 
To join the growing list of alumni investing in this worthwhile scholarship initiative and the next generation of legacy Eagles, please make a contribution to the legacy Alumni Association Scholarship.