Alumni
Want a Fabulous Class Reunion this Year? Step up and Help Plan it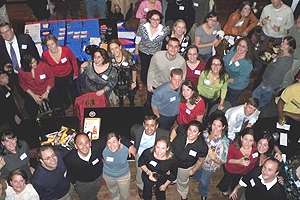 Which of the following could you have a real impact on this year?:  
a) world peace
b) global warming
c) the economy
d) ensuring your class reunion is as fun and memorable as it should be
We get it. Of course, you don't want to sign up for your class reunion 'til you know who else is coming.
But when everyone follows that line of thinking, you know what happens: You end up staying home and missing what could have been a superb night, and the people who do show up complain that not enough of their classmates, like you, showed up.
Alas! There's a simple solution. Mark your calendar for Alumni Weekend, "The Whole '09 Yards," this October 23-25, and stop the self-fulfilling prophecy of the low attendance reunion.
Given that it's June right now, the chances are pretty high that not only is your calendar currently open for those dates, but your friends' calendars are probably open, too. What are you waiting for? This is the first of what will be several invitations to attend and get involved in planning YOUR class reunion.
Here's the skinny.
Alumni Weekend: The Whole '09 Yards needs your help to be a success. The Alumni Relations staff is on the hunt for alums who want to help make this year's reunion celebrations the most fabulous, talked-about events in AU history.
Class reunions for graduating classes ending in 4 and 9 are scheduled for Friday, October 23, and volunteers are needed to help coordinate the activities. Already, full reunion committees have been assembled for the classes of 2004, 1999, 1994, and 1969 - but volunteers are still needed to represent the classes of 1989, 1984, 1979, 1974, and 1964.
Reunion volunteers are needed to help brainstorm potential venues for the celebration; publicize the event to your classmates; and attend the reunion on Friday evening, among other things.
Reunion planning will begin later this month with an informal meeting of all the class cochairs. After that, planning efforts will depend on how elaborate each class decides to make its reunion celebrations.
Graduate alumni are also welcome to participate in the planning and publicity of the events to their fellow graduate alumni. The Alumni Relations office hopes to have representatives from each school and college on the planning committees so that the reunions will be representative of the entire class.
If you're interested in being a reunion cochair, or if you know of a classmate or two who might be a great addition to our planning committees, please forward this article to them, or send an e-mail to reunion@american.edu with their names and class years before June 30, so someone from Alumni Relations can follow up.
Remember: The difference between a fabulous class reunion and one that's not very well remembered or attended is one word - you. You don't have to give up endless hours of your time or take on the responsibility of being an official reunion cochair to help make your reunion as fun and memorable as you deserve. Send your ideas and suggestions to reunion@american.edu and start influencing a bit of history you can be proud of for years to come.