Alumni
Going the Distance: Alumni Weekend's All-Star Line Up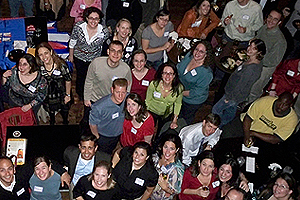 This year for Alumni Weekend, we're going the distance—the whole '09 yards to be exact! 
With more than 50 events spread out over three days, you're sure to find at least one or two or twelve that you won't want to miss.
An all-star lineup of faculty and alumni will be leading the charge, hosting a number of events from Classes without Quizzes to reunion receptions, so there will be plenty of opportunities to catch up with old friends and professors, take a nostalgic walk past your old dorm and favorite campus hangouts, and reminisce about your student days at AU.
FRIDAY
The festivities kick off on Friday, which will feature a variety of events as well as most class reunions, including the annual Golden Eagles Luncheon, honoring members of the Class of 1959 who will be celebrating their 50-year reunion with AU.
The Classes of 1974, 1979, and 1984 will be celebrating at a joint event in the new Kogod Building Lounge. Mingle with friends from the Class of 1989 in Bender Library; and join members of the Classes of 1994, 1999, and 2004, respectively, at various locations in D.C.'s Cleveland Park.
Finish out the night at the All-Alumni Party at Ireland's Four Fields (formerly known as 4Ps) at 3412 Connecticut Ave NW for fun, live music in an atmosphere reminiscent of your college days.
SATURDAY
Rise and shine to join us bright and early on Saturday morning with the American Classic: 5K Race for Humanity, and then stick around for the open houses and faculty receptions that will be taking place at each school throughout the day.
In the evening, join us for our Port & Politics reception honoring this year's alumni award winners in the elegant Katzen Arts Center. Immediately following this premiere event, the Class of 1969 will be celebrating on the stage of the Abramson Family Recital Hall.
After dark, head over to the Kennedy Political Union lecture, which will feature Harold Ford, Jr., chair of the Democratic Leadership Council, and Michael Steele, chair of the Republican National Committee. James A. Thurber, Distinguished University Professor and director of the Center for Congressional and Presidential Studies, will serve as moderator.
The day is jam packed with a host of other events, too. Find out if your favorite affinity group is hosting a special reception or if one of your former classmates is leading a book talk – you might be surprised by who we have on the lineup. A full listing of the day's events is available on the Alumni Weekend Web site.
SUNDAY
Sunday's activities provide a rousing finish to the weekend festivities. Close out the weekend at a brunch lecture, outdoor hike, or at a performing arts show.
Spoiled for choice at the list of events? If you can't decide what to attend first, consider revisiting your college nights at the All-Alumni Party on Friday night at Ireland's Four Fields (formerly known as 4Ps) at 3412 Connecticut Ave NW, and then join us in honoring the 2009 Alumni Award Winners at the Port & Politics reception on Saturday night at the Katzen Arts Center.
Celebrating a reunion this year and want to learn more? Check out our Web site for more information on who's coming, what's happening, and how to register.
Learn More
Join us by visiting the Alumni Weekend Web site to view the full schedule, finalize your travel plans, and figure out which events will make this a weekend to remember.