Alumni
Incoming Freshmen Probe Alumni at Nationwide Send-Off Parties 
By Suzanne Smith
August 18, 2009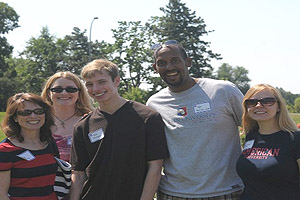 "What is TDR really like?" "Should I get an internship during my freshman year?" "Is summer in D.C. really as humid as people say it is?" "When should I meet with my academic advisor?"
Incoming freshmen ranging from shy to talkative asked alumni a range of burning questions about life at American University during a series of Summer Send-Offs in Atlanta, Chicago, Denver, Los Angeles, New York City, and Phoenix.
The Office of Alumni Relations partnered with the Office of Admissions to host send-off events for admitted students, their parents, and alumni. They gathered for ice cream socials, barbeques, and potlucks to meet one another and share in the adrenaline-filled excitement – and a touch of nervous anticipation – associated with starting college.
The incoming class of 2013 looks much like AU's already diverse student body, which is represented by all 50 states, the District of Columbia, and 144 countries.
This month, more than 1,500 first-year students and 275 transfer students are relocating from all corners of the globe to land in the nation's capital and begin a new chapter in their lives at AU. Ross Weistroffer, an incoming freshman in the School of International Service and the University Honors program, was beaming with contagious enthusiasm. "Though I love where I am now, I absolutely can't wait to get a peek of the Washington, D.C. skyline," said Weistroffer, gazing toward downtown Denver from a hill atop Denver City Park, surrounded by sunshine and a brilliant blue sky. "What really gets me excited is thinking about how much of a wonderful, positive experience it is all going to be."
Susan Abbott, SPA/BA '96, Denver chapter leader and host of the Denver send-off event, said she was incredibly impressed with the individuals she met at the event. "The exceptional quality of the students in the incoming class, their poise and intelligence, gives me high hopes for the future of the university and for the outstanding student body that it continues to attract."
Hosting a Student Send-Off
Want to host a student send-off event next summer? It's never too early to find out more. E-mail involved@american.edu or call 202-885-5962 for more information.