Alumni
Eagles Fly Across Generations: Scholarship Links Students and Alumni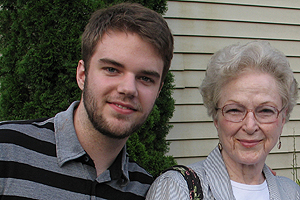 More than 25 years since awards were first drawn from the fund, the Alumni Association Scholarship endowment is a testament to the progress of American University and its alumni.
The scholarship's recipients, who all share a legacy connection to AU, also share similar histories of achievement and ambition.
Andy Sides, currently a junior and a 2007 recipient of the scholarship, recounts the trajectory of his AU career and traces his AU roots back to his grandmother, Virginia Ruff, CAS/BA '72.
"I want to be able to say that I did everything I wanted to do," Sides says of how he hopes to look back at his experience at AU. So far, he's gotten off to a pretty good start.
Sides arrived on campus imbued with a strong desire for community service from his high school years, and has since been actively involved with the Alpha Phi Omega community service fraternity. He will serve as an assistant pledge master this fall, looking to further his experience in the nonprofit world of the nation's capital.
At first hesitant to declare a major, Sides has chosen graphic design, an interest he discovered through some visual media classes in the School of Communication. Following an intensive course in Photoshop, Sides grew to appreciate print-based medium, and he has chosen to make it his career path as he finishes his degree in the next two years.
He has put his skills to good use this summer through an internship with the Washington Freedom, a professional women's soccer team in D.C., working on their Web site and marketing materials. But, even with all his progress, he can't help but look back and appreciate the original excitement he had in visiting AU. "It's been a good bonding point between my grandmother and me," he said.
Sides' success and drive reflect the same success and drive of the alumni who fund the Alumni Association Scholarship. The Alumni Audit Program, which allows alumni to audit a class for a nominal registration fee of $100, donates 75 percent of the program proceeds to the scholarship. The program helps more than 200 alumni reconnect with campus, professors, and their intellectual goals every year.
Through this dual achievement of current students and proud alumni, the connection between the student body and alumni body will continue to grow. The endowment of the fund, which supports the goal of awarding the scholarship on an annual basis, is an important first step in ensuring this relationship continues to prosper.
Learn More
For more information about the Alumni Association Scholarship, please contact Tara Lang at 202-885-5921. To learn more about the Alumni Audit Program, please contact Dan Beardslee at 202-885-5962.