Alumni
Once An Eagle, Always An Eagle: Alumni Award Winners and Miss D.C. Return to Campus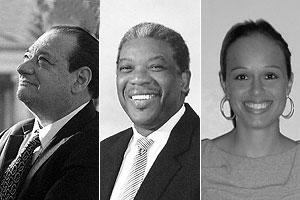 Alumni achievements honor AU. These successes, a source of great pride and inspiration, deserve recognition – and in the grand tradition of acknowledging those alumni who have distinguished themselves by their generosity, perseverance, and good work, the AU community will gather to honor three of its own at the Port & Politics reception on Saturday, October 24.
The curved gallery walls of the Katzen will host the annual cocktail reception to celebrate the accomplishments of the three extraordinary Alumni Award recipients who are the latest in a long line of Eagles whose contributions to the world beyond Ward Circle have already left a lasting mark. The reception will also feature a performance by Miss D.C. 2009, Jennifer Corey, CAS/BA '09.
Robert Cerasoli, SPA/BA '69, will be honored with the 2009 Alumni Achievement Award, given to alumni who have distinguished themselves by their professional accomplishments. Cerasoli's career in public service spanned more than 37 years, and he only recently retired as the first-ever inspector general of New Orleans. A longtime member of the Massachusetts House of Representatives, Cerasoli also founded the Association of Inspectors General in 1996 and has taught ethics at universities in the United States and around the world.
"It's not about me," Cerasoli told The Times-Picayune about his work in New Orleans. "It's about building the office."
The air of quiet, determined altruism is a common thread among Cerasoli's fellow award winners, who share more than just résumés of distinction. Each value their work – and, more importantly, the people impacted by their work – above themselves, and each is genuinely humbled by the attention.
Tom Lewis, SPA/BA '75, who will receive the 2009 Alumni Recognition Award for inspiring the world around him through service to the community, was equally adamant about acknowledging the support of others in his work. A retired D.C. police officer, licensed social worker, and ordained minister, Lewis worked with several nonprofits across the city before founding the Fishing School, a nationally recognized youth development program in northeast D.C. The program garnered national attention when President George W. Bush chose the school as the site from which to launch his Faith-Based Initiatives Program in January 2001.
"I get a lot of credit," says Lewis of the success of the Fishing School. "But so many people helped me."
Lindsay Webster, SOC/BA '03, feels the same way. The recipient of this year's Rising Star Award was touched to hear that she had been selected to receive the distinction, given to young alumni (who have received their undergraduate degree within the last 10 years) who are already making significant contributions to society through their professional or philanthropic work.
A Los Angeles-based producer just six years out of AU, Webster is already making her mark – not just as a rising star in the entertainment industry, but as an individual committed to using her work to address important social issues. She worked on The L Word, the Showtime network's revolutionary show about the lesbian community; Girl 27, a documentary about a young woman raped at a 1937 MGM sales convention that was nominated for best documentary at the 2007 Sundance Film Festival; and My Address: A Look at Gay Youth Homelessness, an online documentary series about gay youth homelessness that showed at the Provincetown International Film Festival in 2008.
"To have AU think of me is an incredible honor and extremely humbling," she says.
"We're so pleased that all three award winners will be with us that evening. They're all outstanding individuals and true representatives of everything the awards stand for," says Tara Lang, director of Alumni Programs. "We couldn't be more excited to honor their achievements in the presence of their fellow AU alumni, faculty, and staff."
The three awardees will return to campus as guests of honor at the Port & Politics reception, held on Saturday night, October 24 – the highlight event of Alumni Weekend '09. Voice major and Miss D.C. 2009 Jennifer Corey, CAS/BA '09, who will be competing in the Miss America pageant this January 30, will cap off the awards festivities with a song to close the evening in style.
To get your ticket to this year's Port & Politics reception, relive your college days, and soak up what's new at AU, follow the QuickLink to the right for Alumni Weekend or go to http://american.edu/alumni.
Come reconnect and celebrate the successes of your fellow Eagles - where it all began.