Alumni
Leave the Nest: Bring Your Little Eagles to Alumni Weekend
By Heather Buckner
October 13, 2009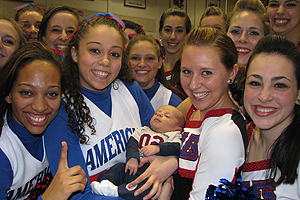 Alumni Weekend: The Whole '09 Yards, will feature more than 50 events next weekend, and we're betting there are at least few you'll want to check out. But saying you can't come because of the kids is no longer a viable excuse, because the AU Spirit Cheerleading and Dance Team will be providing babysitting on Friday night, and there are a bunch of activities planned that are family friendly. From walking tours and a scavenger hunt, to a picnic and sporting events, there's something everyone can enjoy – from toddlers to teenagers!
Learn Something New About Campus
What is an Arboretum Anyway?
Friday, October 23, 11 a.m., 1 p.m., and 3 p.m.
Did you know AU's 84-acre campus is registered as an arboretum? Join AU's landscape architect and facilities staff for a 45-minute tour of AU's gardens that will introduce you to the wide variety of plants found within AU's award-winning campus grounds.
AU Scavenger Hunt
Saturday, October 24, 9 – 2 p.m.
Check in at the Hospitality Center after 9 a.m. and pick up a copy of our Alumni Weekend Scavenger Hunt. Follow the clues, and learn more about some of the more unique spaces on campus. Everyone who turns in their completed scavenger hunt to the Hospitality Center before 2 p.m. will get a special prize!
Historical Walking Tours of Campus
Saturday, October 24, 1:30 and 2:30 p.m.
Explore AU's past with this historical walking tour through campus with University Archives staff. Learn which building was the first on campus and where the government conducted secret experiments during World War I.
Get Some Arts Exposure
Make Your Own Art @ the Katzen
Saturday, October 24, 11 a.m.
Join the volunteers of the AU Museum to make a hands-on arts project inspired by the exhibition Australian Indigenous Art Triennial: Culture Warriors. Must be prompt to receive instructions.
Reading Works: AU Literacy in D.C. & the Larissa Gerstel Critical Literacy Collection
Saturday, October 24, 11 a.m.
While your elementary aged children can participate in literacy activities led by current AU students in the library's Curriculum Materials Center, join the School of Education, Teaching and Heath (SETH) for an interactive conversation on critical literacy questions in D.C. and beyond.  There will be an opening presentation by Dr. Stacie Tate followed by a panel discussion with SETH Alumni teachers working in the D.C. area.

AU Family Picnic
Saturday, October 24, Noon – 2 p.m.
Enjoy live music by the Sandra Dean Trio, hang out with Clawed Z. Eagle, and enjoy one last fall picnic before the weather changes – all while reliving memories of SUB concerts and more in the Woods-Brown Amphitheatre. The menu includes pulled chicken, hot dogs, Portobello mushrooms, salads, and more.
Cheer for the Home Team
Volleyball
Friday, October 23, 7 p.m. and Saturday, October 24, 4 p.m.
Cheer on AU's volleyball team as it takes on Patriot League rivals Lehigh (on Friday) and Lafayette (on Saturday). You might even want to stop by the AU Campus Store before the game to pick up some fun AU apparel.
Open Houses with the Deans and Faculty
Saturday, October 24, 2-3 p.m.
Support your school or college by attending your Dean's Open House, munch on some light refreshments while you hear about changes, top scores, and other brag-worthy news.
Men's Soccer
Saturday, October 24, 3 p.m.
Keep up with the action on Reeves Field when AU's men's soccer team takes on Patriot League rival Lehigh. Pom-poms optional.
Even with all these great family-friendly events, we didn't forget about providing some entertainment for those 21 and up. On Friday, October 23, head out to our All Alumni Party (after our reunions) and leave the kids with our AU Spirit Program Cheerleaders and Dance Team. They'll be providing childcare on campus during the event for just $10 per child – now that's a bargain! Your kids will have a personal visit by Clawed Z. Eagle, dinner, and hours of entertainment with AU's most spirited supporters.
Check out our online schedule for the full rundown of events and register yourself, your family, and your college roommate today (although you might want to call first to confirm!)