Alumni
Alumni Weekend Brings Back Classmates, Memories
By Heather Buckner
November 10, 2009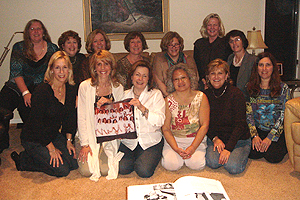 "Hey, that wasn't there when I was a student!"
"It's been too long."
"Remember when…"
These are just some of the statements overheard during Alumni Weekend a few weeks ago, when hundreds of alumni and friends returned to campus to reconnect, reminisce about the "old" days, and see who and what has changed since the last time they were on campus.
Loyal Eagles didn't let the rain stop them from turning out for class reunions and special receptions; sitting in on classes; seeing current students perform on stage; cheering on teams at the soccer field and volleyball court; congratulating fellow alumni on recent awards; or catching up at impromptu get-togethers.
Friday Reunions
The weekend began for some of AU's most committed volunteers on Friday afternoon with advisory board meetings hosted by each school and the library, where they discussed how to build on AU's positive momentum.
At the same time, more than 60 Golden Eagles – alumni who graduated 50 or more years ago – enjoyed a wonderful lunch in the University Club. This much-loved annual event tradition featured induction of the newest Golden Eagles from the Class of 1959 by President Neil Kerwin '71; entertainment by AU's award-winning chamber choir; and a presentation by SIS Professor Abdul Aziz Said – a Golden Eagle himself – about one of his latest projects: software that maps the world's warlords. Yes, you heard correctly; warlords. It was truly fascinating.
Friday evening set the scene for seven different AU class reunions. More than 250 alums packed the room for the largest event of the evening, the All-Alumni Party, at Ireland's Four Fields (formerly the 4P's) in Cleveland Park, which drew alumni from the Class of 2004 celebrating their 5-year reunion; a crowd of loyal Athletics fans; and many more alumni from grad years recent and not-so-recent. The evening also included giveaways donated by Ireland's Four Fields, free hors d'oeuvres from 8-10 p.m., and live Irish music barely heard over the din of hundreds of excited AU voices catching up with old friends.
Saturday's Offerings
For those crazy early risers (you know who you are), Saturday began at dawn when more than 100 alumni, students, parents (Family Weekend was held concurrently with Alumni Weekend), and friends donned their running shoes and took to the pavement for the student-organized 5K campus run. Participants barely had time to catch their breath before heading to Ward to hear President Kerwin's official welcome remarks.
Alumni, parents, and current AU students headed to Mary Graydon Center for live music and a tasty, catered picnic lunch before fanning across campus for a range of afternoon activities including school-based open houses, residence hall tours, walking tours of campus, a women's volleyball game, and a men's soccer game.
A few special reunions also took place on Saturday afternoon, including 40-year celebrations of the Zeta Beta Tau and Phi Epsilon Pi fraternities; the 1968-1969 AU baseball team; and the Lucy Webb Hayes School of Nursing, class of 1979.
"lt was wonderful sharing our nursing school memories, discussing our families and children, and catching up on what each of us is doing now," said Susan Heller, SOC/BA '79. "We look forward to seeing each other soon... We made a promise to meet again in a few years!"
Some new AU memories were made Saturday evening, when the Alumni Association's 2009 Award winners were honored at the Katzen Arts Center Rotunda. Robert Cerasoli, SPA/BA '69; Tom Lewis, SPA/BS '75; and, Lindsay Webster, SOC/BA '03, gave moving acceptance speeches detailing humble origins and life-changing experiences both at AU and in their careers beyond. "Our three awardees were so inspiring, so worthy and so impressive," said Alumni Board President Brian Keane, SPA-SOC/BA '89.
Sunday
Sunday's more leisurely schedule of events capped off a jam-packed weekend of reunions and reminiscing. Alumni were invited to a library-hosted brunch; religious activities in Kay Chapel; and museum tours, the annual a capella showcase, and a student drama production. The weekend ended just in time for proud alumni to return home and recover from a weekend of fun before beginning yet another busy week—AU staff included.
Hopefully all who attended walked away with a fresh perspective on what AU's been up to since they crossed the stage for their coveted diploma. Planning is already under way for Alumni Weekend 2010, so mark your calendar for Oct 22-24 and feel free to send in your suggestions to reunion@american.edu.
Did you graduate in 2005, 2000, 1995, 1990, 1985, 1980, 1975, 1970, 1965, 1960 or earlier? We're looking for class reunion cochairs for 2010. Contact Heather Buckner for details at 202-885-5902 or reunion@american.edu.