Alumni
Alumni Board and Friends of the Library Team Up for Holiday Soiree - AU Style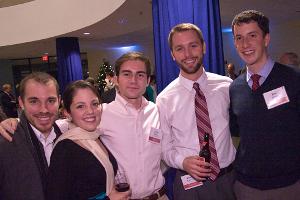 With the holidays just around the corner, it's time to mark your calendar for the annual Holiday Soiree on Thursday, December 9 in the Katzen Arts Center Rotunda.  Cosponsored by the AU Alumni Board and the Friends of the Library, this year's fete features great food and drink, special features from the University Library, live entertainment, and the now-traditional Toys for Tots drive, not to mention plenty of time to mix and mingle with fellow Eagles.
Now in its fourth year, the Holiday Soiree keeps getting better as it blends old traditions with some new highlights. The Toys for Tots drive, in which guests are invited to bring a new unwrapped toy for donation to the U.S. Marine Corps Reserves, will remain as part of the university's commitment to service and a fun and poignant element of the evening. All toys will then be donated as holiday gifts to needy children in the D.C. community. The evening will also feature remarks from President Neil Kerwin, SPA/BA '71, University Librarian Bill Mayer, and a live performance from On a Sensual Note, one of the most popular student a capella groups.
This year's partnership with the Friends of the Library will add some new elements to the event. A community of alumni, faculty, staff, students, parents, neighbors, businesses, associations, and others with a strong commitment to the library's centrality to university life, Friends of the Library works to raise awareness and build support for the library. The University Library will also provide a special holiday display and music from its collection.
Raina Lenney, assistant VP of Alumni Relations, hopes the new partnership will enhance an already distinctive evening. "We are thrilled to partner with the Friends of the Library this year, as we feel it is a wonderful opportunity to showcase the entire university community. Each year, we welcome alumni, parents, and friends back to AU to celebrate during this festive season, and we hope to see the biggest crowd yet."
The event costs $20 per person, which includes heavy hors d'oeuvres, desserts, wine, beer, and soft drinks. For more information, contact Tara Lang at 202-885-5921 or register online. We look forward to seeing you there to kick off the holiday season together!