Alumni
Meet AU's Brightest Stars - the 2011 Alumni Award Winners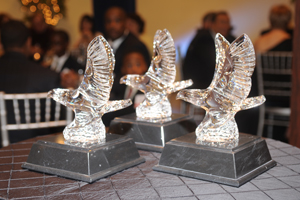 The American University Alumni Board and the Office of Alumni Relations are pleased to announce the recipients of the Alumni Association's 2011 Alumni Awards.  Selected annually from nominations submitted by faculty, staff, and AU alumni from around the world, these four awards are the highest honors presented to alumni by the Alumni Association.  This year's recipients are truly outstanding and epitomize the type of high-achieving, philanthropic alumni of whom the university is so proud.
New to the awards lineup this year is the Alumni Eagle Award, an award designed to honor those alumni who have gone above and beyond in serving American University.  While AU is fortunate to have a myriad of alumni dedicated to serving their alma mater, this new award celebrates the most devoted of Eagles.
The 2011 Alumni Award winners are as follows:
Alumni Achievement Award - David M. Gregory, SIS/BA '92 
The Alumni Achievement Award recognizes alumni who have distinguished themselves through their professional accomplishments.
David Gregory was named moderator for Meet the Press, NBC's Sunday morning news program in December 2008.  Mr. Gregory joined NBC in 1995 and has served as chief White House Correspondent for NBC News, in addition to regular appearances on NBC Nightly News, Today, and MSNBC.  He has covered three presidential elections and reported extensively on the September 11 attacks and the Afghanistan and Iraq wars.  Mr. Gregory is a member of the SIS Dean's Advisory Council and has been honored previously as SIS alumnus of the year.
Alumni Recognition Award - Karen L. Bune, CAS/BA '76, SPA/MS '78 
The Alumni Recognition Award recognizes alumni who inspire the world around them through service to a philanthropic mission or the AU community.
Karen Bune serves as a victim specialist in the Domestic Violence Unit of the State's Attorney's Office for Prince George's County, Maryland.  She serves as an adjunct professor in the Department of Criminal Justice at George Mason University in Fairfax, Virginia, and Marymount University in Arlington, Virginia, where she teaches victimology.  Ms. Bune also serves as a consultant for the U.S. Department of Justice.  She is a nationally recognized speaker and trainer on victim issues.  She is a member of the College of Arts and Sciences' Alumni Leadership Council.
Alumni Eagle Award - Brian F. Keane, SPA/BA '89 
The Alumni Eagle Award recognizes alumni who have rendered outstanding service to the University and/or the Alumni Association.
Brian Keane is president of SmartPower, a nationwide nonprofit marketing campaign dedicated to promoting clean, renewable energy.  Twice named "Connecticut's Environmental Hero," he was also named one of Hartford's "Outstanding Forty Under 40" by the Hartford Business Journal.  Previously, Mr. Keane served as director of External Affairs for the Conservation Law Foundation, executive director of Economic Security 2000, and national field director for the Concord Coalition.  Mr. Keane is the immediate past president of the AU Alumni Board and continues to serve on the board.
Rising Star Award - Talila A. Lewis, SPA/BA '07 
The Rising Star Award recognizes young alumni (those who received their undergraduate degree within the last 10 years) who are already making significant contributions to greater society through professional or philanthropic work.
Talila Lewis is a 2014 Juris Doctorate candidate at American University's Washington College of Law.  Prior to entering law school, Miss Lewis worked as a paralegal for the District of Columbia Public Service Commission and the Public Defender Service for the District of Columbia.  In addition, she served as a consultant to attorneys who assist Deaf and hard of hearing clients.  She served as volunteer director and fundraising coordinator of Deaf Camps, Inc. from 2008 - 2010 and co-founded a nonproft that works with the DC Public Library to improve literacy and programmatic accessibility for the Deaf Community in the District.  Miss Lewis founded Helping Educate to Advance the Rights of the Deaf (HEARD), a nonprofit organization that empowers the Deaf Community through legal education, and enhances the justice profession's ability to manage language access and ability rights concerns.
"With so many accomplished and well deserving alumni, it was definitely not an easy decision to choose our awardees this year," said Alumni Board member Jennifer Collins, SOC/BA '94, chair of the Awards Committee.  "This year's awardees represent a wide array of exceptional achievements and we honor them all!"
Please join the Alumni Board and President Neil Kerwin, SPA/BA '71, in honoring these recipients at the 2011 Alumni Awards Ceremony and Reception during All-American Weekend on Saturday, October 22 from 6 - 8 p.m. in the Katzen Arts Center.  $20 per person includes heavy hors d'oeuvres, wine, beer, and soft beverages.  We hope to see you there!
For more information, please contact Tara Lang, director of Alumni Programs, at 202-885-5921.