Alumni
2011 Campus Plan Focuses on East, Tenley Campuses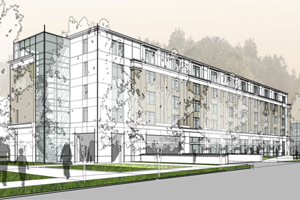 Last month, President Kerwin distributed for review a public comment draft of American University's 2011 Campus Plan, a vital building block for AU's future.

"The 2011 Campus Plan was developed to support the goals of AU's strategic plan (approved by the Board of Trustees in 2009), and it outlines the facilities needed to advance AU's academic aspirations," Dr. Kerwin said in a memorandum to the campus community.

"Eighteen months in the making, and the focus of a lively dialogue with our neighboring community, the plan reflects AU's intent to strengthen its academic prestige, maintain our standing as an asset to Washington, D.C., and honor a commitment to be an amenity to the surrounding community," he added.

While the District of Columbia requires that every 10 years colleges and universities submit a plan that outlines projected facilities growth and campus enhancements for the coming decade, AU is the only university to submit a draft to the community in advance of the actual filing that is expected in March.

Highlights of the plan include moving the Washington College of Law from its present location on Massachusetts Avenue to AU's Tenley Campus as well as development of the Nebraska Avenue parking lot into a new East Campus. Additional proposed projects include additions to the Beeghly Building, Nebraska Hall, Mary Graydon Center, and the Kay Spiritual Life Center.

The largest proposed project, the East Campus development, will transform the eight acre Nebraska Avenue parking lot into a campus consisting of six buildings with underground parking.  The East Campus is designed to accommodate 765 students in contemporary residence halls, recreation and activity space for students, instructional spaces, the Admissions Welcome Center, Alumni Center, and administrative offices. Small-scale retail spaces also are planned along Nebraska Avenue.

The proposed new and renovated facilities at the Tenley Campus will provide an exciting new home for the Washington College of Law. As part of the project, Capital Hall will be renovated for use by WCL and integrated with a new facility designed to complement its architecture.  Moving the law school to the Tenley Campus, already situated on a major urban corridor with adjacent Metro and major transit bus lines, also supports AU's ongoing commitment to sustainability.

All members of the AU community, including alumni, are invited to review the draft campus plan and provide feedback at campusplan@american.edu. The document and attachments can be found online.