Alumni
Let's Celebrate Alumni Achievements
'Tis the Season to Nominate AU Alumni for One of Four Awards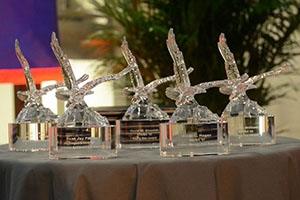 American University alumni are game changers making global impact in every professional industry. Because of our graduates' achievements, AU annually celebrates alumni successes through the American University Alumni Awards.  
This year's nomination process closes for review on Friday, May 8, 2015.
Do you know Eagles who soar above the rest? Help us celebrate their achievements by submitting a nomination for one of our four awards. Each honor offers a unique opportunity to tell the world why AU alumni are great.
Alumni Achievement Award recognizes alumni who have distinguished themselves through their professional accomplishments.
Alumni Recognition Award honors alumni who inspire the world around them through service to the community or a philanthropic mission.
Alumni Eagle Award celebrates alumni who have rendered outstanding service to the university, the Alumni Association, or one of the AU's recognized alumni groups.
Rising Star Award provides undergraduate alumni (of the last 10 years) who are already making significant contributions to greater society through professional or philanthropic work a chance to be celebrated.

To learn more about the awards process, visit our Alumni Awards web page here.