Alumni
Online Registration for All-American Weekend 2010 Now Open
By Heather Buckner, SPA/MPA '10
August 13, 2010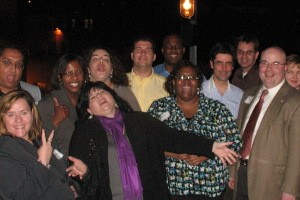 It's that time again! Jump online today, and check out the great lineup of events planned for All-American Weekend: A Celebration for Alumni and Families, October 22 – 24. Hosted at and around AU by the Office of Alumni Relations and New Student Programs, the weekend will feature more than 50 events for alumni, families, students, community members, and friends.
Check out some of our event highlights below.
FRIDAY, 10/22
Class reunions will take center stage on Friday, including:
• The much-loved annual Golden Eagles Luncheon, honoring members of the Class of 1960 this year, who will celebrate their 50-year reunion;
• AU's first reunion dedicated to an entire decade for alumni from the Classes of 1980-1989; and
• Special 5- and 10-year reunion parties for the Class of 2005 and the Class of 2000.

The Golden Eagles will gather at the University Club in the Mary Graydon Center (MGC) for this popular event hosted by fellow alumnus President Neil Kerwin, SPA/BA '71. More than 500 Golden Eagles are eligible for induction into this year's "50-year" milestone reunion.
The classes of 1980-1989 will gather in the ever-popular Tavern at MGC. Look forward to some good fun, plenty of '80s music, and photos of "fashionable" clothes and hairstyles from those days (compliments of The Talon and The Eagle, 1980s editions).
The classes of 2000 and 2005 will celebrate at the 4P's in Cleveland Park, now known as Ireland's Four Fields. Later in the evening, alumni from all classes are invited to join in the fun for the All-Alumni Party. Live music and hors d'oeuvres will be on hand to help keep the conversation flowing.
Want to know who's coming, what else is planned, and more? Register online and learn more on the Reunions Web site.
SATURDAY, 10/23
Join us bright and early on Saturday morning for the American Classic 5K: Race for Humanity, then stick around for the open houses, receptions, panel discussions, and Classes without Quizzes taking place throughout the day.
In the evening, meet the Alumni Association's 2010 Alumni Award winners at a special ceremony and reception detailing their accomplishments and honoring their achievements before heading to the All-American Bash—our premier alumni event—featuring music, contests, games, food, and drink sure to keep you reminiscing into the night.
SUNDAY, 10/24
Sunday's activities will provide a rousing finish to the weekend festivities. Attend a special Alumni Brunch featuring Lonnie Bunch, CAS/BA '74, CAS/MA '76, founding director of the Smithsonian's yet-to-be-built National Museum of African American History and Culture; cheer on AU at a women's soccer game; or listen to the A Capella Showcase before heading home.
Not sure what to attend first? Consider revisiting your college nights at the All-Alumni Party on Friday night and then join us in honoring the 2010 Alumni Award Winners Saturday night before hitting the All-American Bash at the Katzen Arts Center. 
View the full schedule, find the hotels you can get alumni discounts through, and register for all the fun at: http://www.american.edu/alumni/allamericanweekend/