Alumni
Florida Mayors Greet Alumni, President Kerwin
By Dan Beardslee '07
July 1, 2010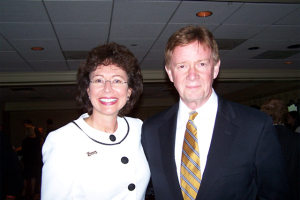 The mayors of Tampa and Orlando have more than just a sunny, temperate climate in common. Both have ties to AU.
Tampa Mayor and AU alumna Pam Iorio, SPA/BA '81, welcomed AU President Neil Kerwin, SPA/BA '71, at an evening reception on Tuesday, June 16 that brought together nearly 70 alumni, family, and friends. Now in her eighth year leading the city, Iorio's credits include establishing an environmentally focused regional mass transit system and strengthening community development.
Iorio entered public office just four years after her graduation; she became the youngest-ever elected member of the Hillsborough County Commission in 1985. A year later, she was elected chair of the commission, serving two terms in that capacity until 1992. Prior to her election as mayor of Tampa in 2003, she served three terms in the office of Supervisor of Elections for Hillsborough County, from 1993 to 2003.
Tampa resident and fellow alum George daPonte, SIS/MA '95, could not have been more pleased with her leadership. "It's a credit to the institution [AU]," said daPonte of Iorio's impressive politics and future planning for the city. "She's also one of the most personable mayors I've ever met," he added.
Iorio welcomed the opportunity to address her fellow Eagles, touching on the continuing relevance of her AU education – and the opportunities and challenges she faces in striving to better Tampa.
While Iorio focused on her AU past and Tampa's future, Orlando Mayor Buddy Dyer focused on his role as a current parent to AU sophomore Trey Dyer. Addressing more than 30 alumni and guests at a luncheon in Orlando the following day, Dyer's talk overflowed with praise for AU's academic standing and its strong commitment to diversity. Dyer spoke of his son's decision to attend AU out-of-state, and the world of opportunity it has already opened up for him.
For Michael Smith, CAS/BA '79, Dyer's effusive tribute to AU demonstrated its traditional strengths throughout history while also touching on the new opportunities available to this generation of students.
"One of the real advantages of AU is that it's well connected with the city," said Smith. "You don't feel like you're in a bubble." Smith was pleased to hear about AU's plan to draw more applications from the South and the Western United States, to bolster regional diversity on campus.
While meeting Mayor Dyer was a personal highlight for Smith, hearing President Kerwin address the group regarding AU's current status and positive future also brought approval. "I think he's got a great strategic plan in place," said Smith, noting how personable the president was and the effort he made to reach out and talk to event attendees.
The two-day tour served as a reminder that with talented alumni, driven students, excited parents, and a proud alumnus as president, AU's future is as bright as the Florida sunshine.