Alumni
Convocation Kicks Off New Year with AU Traditions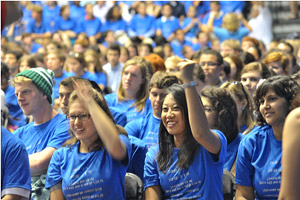 For some, singing in front of a crowd is their profession or hobby. For AU's class of 2014, it served as a first rite of passage during opening convocation in Bender Arena last Friday, August 20.

Buoyed by the AU Alumni Association's outdoor breakfast reception and gift of new T-shirts featuring the AU fight song, the chorus of new students put an exclamation point on a morning of welcoming remarks and college advice from Student Government president Nathan Bronstein, President Neil Kerwin, SPA/BA '71, and several other AU well-wishers.

Bronstein posed a simple question to the newly arrived Eagles: "What will we do?" Noting impressive accomplishments in history, Bronstein implored his fellow students to not look to the past but to dream of the future. Drawing on the awesome potential, diverse interests, and common values of the university, Bronstein presented a single theme throughout AU's culture. "We are a community because of the question of what will be the great accomplishment of our generation is asked by each and every one of us in one way or another."

President Kerwin suggested the freshmen take their new college experience seriously from the get-go as they begin their journey. He also stressed the importance of a lifelong relationship with AU. "You will be and you will do many things, but you will always be an alumnus of American University."

While President Kerwin emphasized the need for focus, law Professor Andrew Popper, this year's Scholar-Teacher of the Year, preached patience over choosing a specialty too early, as he's seen many previous students do. He reminded the audience of the effort it takes to fully appreciate all AU—and life—have to offer. "Coming to AU was the best professional experience of life," said Popper. "My blood runs AU."

Leading to the final pep rally, AU Alumni Association Board Secretary Sandra Walter-Steinberg, KSB/BSBA '86, offered a heartfelt closing to the event. Walter-Steinberg gave them advice on how to make the most of their time as students so as to "leave AU with a meaningful network that is larger and more important to your life than you've ever imagined. It's like having 100,000 instant Facebook friends!"

In closing, she offered "I wish you the life of your dreams, and a fantastic journey. And one day, a few decades from now, whether you help charities raise money like I do, or run a major University like President Kerwin, I hope you'll say that American University helped you have a career you love, and relationships that mean the world to you."

For Bronstein, the effort put forth is already paying dividends: Freshmen students sang the fight song with vigor at a recent women's soccer game, proving they are quick learners. "It had a nice balance between a formal ceremony and pep rally," concluded Bronstein.