Alumni
Celebrate AU at Nationals Park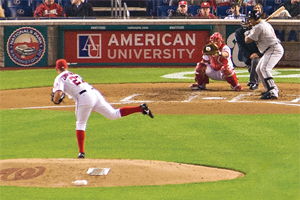 With the rising temperatures of summer, baseball season is in full swing, and at Nationals Park, American University is front and center. On Friday, August 31, the entire AU community will celebrate the university's ongoing partnership with the Washington Nationals with AU at Nationals Park, an evening full of Nats baseball and WONK fun.
Before the Nats take on the reigning World Series champions, the St. Louis Cardinals, in the 7:05 p.m. game, alumni, students, faculty, and staff will gather for a picnic dinner in the Family Picnic Area inside the park. Guests will enjoy burgers, hot dogs, salad, kettle chips, and watermelon, along with visits from Clawed Z. Eagle and Screech, the Nationals mascot. Everyone will also take home a free Nationals WONK t-shirt (also given out to the first 20,000 fans to enter the stadium that evening).
No one will want to miss the game's opening ceremonies, as AU's very own President Neil Kerwin, SPA/BA '71, will throw out the first pitch. Clawed will also play a role in the fan-favorite President's Race - hopefully giving Teddy the luck he needs for his first victory!
The picnic will start at 5:30 p.m., with the game at 7:05 p.m. $25 per person includes both the picnic dinner and a ticket in the LF/RF Mezzanine section. To pick up game tickets, guests will need to check in at the special AU will call table just outside the park. The WONK T-shirts will be distributed at dinner.

Due to a partnership formed earlier this year, AU's nationally renowned WONK campaign is featured heavily at all home games with ballpark signage, scoreboard commercials, and in-game WONK challenges. All alumni, faculty, and staff can also take advantage of discounted tickets throughout the entire rest of the season:
LF/RF Corner: $18 (usually $36)
LF/RF Mezzanine: $15 (usually $30)
Upper Infield Gallery: $9 (usually $18)
To purchase tickets for regular season games, visit nationals.com and click "BUY TICKETS." Select the game of your choice, enter coupon code WONK, and click APPLY.
Enjoy the Nats all summer long, but be sure to join us on August 31 for AU's Night at the Nationals Park. To register for the event, click here.