Alumni
From AU to "I Do:" One couple's story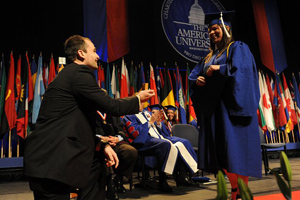 Both Sarah Cooper, SPA-CAS/BA '12, and Sam Miller, SOC-CAS/BA '12, entered college not wanting a steady significant other, but all of that changed soon after they met each other in their Discover DC group – where incoming freshmen tour Washington before starting classes. Four years later, Sam proposed to Sarah onstage during graduation. She said "yes."

Sam was smitten from the beginning; Sarah wasn't so sure. When Sam first approached her, Sarah says, "He said something that wasn't even a pick-up line, it was just kind of silly. So, I thought, 'Is this you trying to flirt? You're doing a really bad job.'"

"She ignored me," Sam agrees. "I didn't enjoy that very much. I thought she was pretty cute, so I tried to get her attention back by putting a flower in her hair, and I guess it stuck."

Soon, the two were friends on Facebook, and a few weeks later they had their first date at Georgetown Cupcake. After that, they were inseparable.

"[Deciding to come to AU] was a last-minute decision. It was just a feeling I got when I visited campus right before the deposit was due," Sarah says.

For Sam, "There was something about AU. I came to freshman preview day … and I was totally sold."

Not only did Sarah and Sam start their time as students at AU in a memorable way when they met each other, they also ended it with flair when Sam proposed as Sarah received her diploma at graduation.

"I had a feeling he was going to propose on graduation weekend, because both of our families would be [in D.C.], but I specifically told Sam, 'Do not embarrass me,'" Sarah says.

Sam didn't intend to propose on stage at first, but with the help of AU staff, he was able to coordinate a proposal that would not embarrass Sarah.

Sarah said that she suspected something, but once she walked across the stage, it wasn't on her mind. "When I did see him, it really was a shock at that point. It was exciting and very unexpected at that very moment."

The media attention that followed was a little strange for the happy couple. Sarah learned the hard way that commenters on YouTube and other websites can be cruel, but Sam, who majored in public communication, has a different perspective.

Sam landed a job at communications firm Tigercomm after working there through AU's internship program this past spring. Through this experience, he learned what it was like to be in the spotlight: "I have a very deep appreciation for what I do now. … Now I understand why people pay thousands of dollars for our services."

Sarah recently started working at a summer camp for three to six-year-olds and will teach high school social studies in the fall.

Now, instead of being concerned about homework and exams, the couple is enjoying their independence, and worrying about budgets and what to cook for dinner after a long day at work. They sound like an old married couple already. We're sure they'll live happily ever after.