Alumni
Welcoming the Newest Alumni Board Members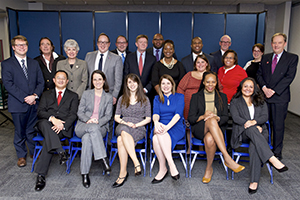 Four vibrant new members joined American University's Alumni Board this year. Their diverse perspectives and insights strengthen our already dynamic leadership. Since the 1950s, the Alumni Board has provided advice and insight to university staff in their outreach to alumni.

New Alumni Board members include:
Piya Charanjiva, Kogod/BSBA '91; Boca Raton, Fla.; Partner, Virginia Phillip Wine Shop & Academy
Piya has been a loyal supporter and advocate of AU. She has been involved with the Admissions office in assisting with interviews, college fairs, and summer send-offs in the South Florida area for the last five years. 
Kerry-Ann Hamilton, SIS/MA '05; Washington, DC; Vice President, GMMB
Kerry-Ann has participated annually in activities for the School of International Service and the international communication program since her graduation. She has worked on numerous panel discussions and workshops for current students and served as a resource on media matters and communication issues for the Office of Communications and Marketing. 
Jonathan Mathis, Kogod/BSBA '04; Alexandria, Va.; Director, National Association of Secondary School Principals
Jonathan has stayed connected to AU by serving as a mentor, remaining active with the AU Gospel Choir, and being a resource for the undergraduate chapter of Phi Beta Sigma Fraternity, Inc. He is an avid supporter of the AU Black Alumni Alliance, having served as the 2016 Multicultural Alumni Reunion Brunch co-chair.

George "Cookie" Reed-Dellinger, Kogod/BSBA '69, Kogod/MBA '71; Washington, DC; Senior Vice President, TeleMedia/Internet Analyst, Washington Analysis
Cookie has served AU in a variety of capacities, including on the Athletic Department Leadership council, and being an adjunct professor in the international business department. George is a supporter of the AU men's soccer team and a member of the President's Circle. 
On the board, all five schools and colleges are represented, as are a variety of industries and careers. Information regarding the full Alumni Board membership is available on the Alumni Board website.