Student Life
A Message from AU Student Government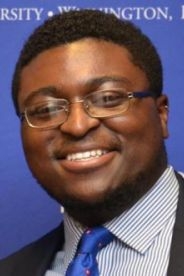 Dear Fellow Students, 
At AU, our students are equipped with some of the best resources an academic institution can offer. We're able to take incredible classes on a variety of relevant topics, connect with professors and practitioners who are the best in their field, and explore professional opportunities through internship and career resources at AU. However, we also have incredible alumni to help guide us through our time at AU and beyond. There's no better connection than someone who was in our shoes at one point as a student and is now reaching their full potential in their respective fields. 
I have been fortunate to meet alumni who have gone on to blaze trails and really make a difference in a variety of career paths. They have always inspired and pushed me to be better and do more by putting my heart into the work I do. AU students will go on to become alumni who give back to a community that gave so much to them. We are fortunate to have alumni who model what success and mentorship can mean for those still finding their way. Sometimes we forget that we really are a family of Eagles who go on to change the world in different ways. 
One of the most important lessons I've learned at AU is that when we help each other soar to new heights, we can all fly high together.
Best,
Devontae Torriente
President, AUSG