Alumni
Adam Koons '87 Leads Disaster Relief in Haiti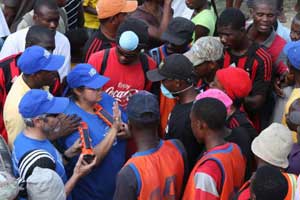 Rubble and garbage litter the streets; steel cars are crushed like tinfoil; large buildings are reduced to pancakes, mere roofs on the ground. Survivors, standing on leveled rooftops, look for some way to reach trapped loved ones, while others look for what they might salvage to help make temporary shelters, anything to assist with their survival.
This is how Adam Koons, CAS/PHD '87, director of relief for International Relief and Development, described the scene in Haiti after the massive earthquake that struck on January 12.
Koons is stationed in the town of Leogane, about 20 miles south of Port au Prince, which got less attention than the capital but is closer to ground zero. "It was 90 percent destroyed with 100 percent of the population affected," he says.
IRD's emergency response team left D.C. on day two, but it took an extra two days to arrive in Haiti because of chaos in logistics and transport. "The airport was closed. We went to the Dominican Republic and then went overland…with poor communications—we were using satellite phones—we got stranded.
"In the end we came over the Haitian border with a U.S. government convoy. In fact, we ended up being responsible for delivering a shipment of U.S. Embassy water, two full trucks of bottled water," he describes.
Roadblocks of rubble and traffic chaos made the desperately needed transport of medical supplies and tents seemingly impossible. Many emergency vehicles headed into the country, while Haitian vehicles headed out, forcing many people to cram into a small amount of space. "It was mechanical and human gridlock," says Koons.
Upon arrival, logistics and coordination were Koons' first focus. "We needed a place to stay and to work, and we needed to establish communications. We needed to obtain vehicles, in order to move around for meetings, assessments, and program design. And we needed contact with other aid agencies and the U.N. in order to determine where we could contribute the most effectively and who we could partner with. There is a well-established U.N. disaster response coordination system that includes all agencies, and we immediately sought to connect with it, on a practical level: Where they were meeting and when." 
Since medical assistance and water were already covered by other agencies, IRD chose to focus on shelter, sanitation and hygiene, and agricultural recovery. "People were living in small, makeshift structures of sticks and scraps of material," he says. With the rainy season fast approaching, his team focused on providing materials to make solid, waterproof, 'transitional shelters' that can be used for a year, if needed.
"Initially we are planning to support shelter for 3,500 families; more, depending on how much money we can obtain from donors," he says.
In one location they visited, a soccer stadium was completely filled, shoulder to shoulder, with makeshift shelters and an estimated 600 families or 4,800 people. "There was not a single latrine there. You can just imagine…" he says. IRD is now building 1,200 latrines to serve 28,000 people.
Koons explains that since most people outside of the capital city are farmers, their capacity to produce food has been severely disrupted. "They are now living on emergency food aid, but this is obviously not sustainable. We will help them return to growing and selling their own food." 
Well acquainted with natural and manmade disasters (such as war and terrorism), Koons' relief experience includes Darfur, Indonesia, Bangladesh, Mississippi and Louisiana, Iraq, Afghanistan, Mozambique, and Pakistan.  
He has 26 years experience managing relief programs for the Peace Corps, USAID, CARE International, Save the Children, the United Nations, President Carter's Presidential Commission on World Hunger, and several other development agencies. Before joining IRD, Koons served for more than three years as the Sudan Country Director for Save the Children, overseeing a $32 million program with more than 1,000 staff.
He compares the Haiti relief response to those past experiences like this: "The severity and level of destruction is uncommon and stunning. The level of global support has been tremendously impressive." 
Koons remains in this challenging line of work because of the deep satisfaction in helping others. "It sounds really corny, but I feel really great about having the opportunity to tangibly, concretely, and directly help people during their most vulnerable and traumatic times. I am not a person who can sit at the sidelines or help indirectly. I have the skills and the means to jump in, and it's exciting, invigorating, and tremendously fulfilling."
Koons will leave Haiti in March, rest for a few weeks while someone else fills in, and then go back for several more weeks. "I will try to return periodically to see how things are going and offer whatever support I can as our programs evolve and mature."
Despite the obstacles, frustrations, chaos, and bureaucracy that come along with disaster relief, Koons does his best to keep it all in perspective. "When I visibly see people who are much more able to survive because of something my colleagues and I have done, I am energized and thankful. It is the reason we are able to continue working 16 hours a day during seven-day weeks during emergencies."