Alumni
All-American Weekend 2012
A celebration for alumni and families
By Carlita M. Pitts
August 15, 2012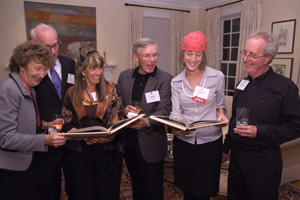 Attention Eagles! One of the most exciting times of the year is quickly approaching. All-American Weekend is a little more than two months away and we have an exciting weekend planned for you! Please plan to get back to campus on October 19-21 for a fun-filled weekend.

Whether you are coming back to celebrate a milestone reunion year, develop networking opportunities, or simply to reconnect, reminisce and celebrate with friends, we look forward to your participation in All-American Weekend.

The weekend will include a variety of events sure to please everyone. To honor the class of 1962, we will host the Golden Eagles Luncheon and post-luncheon tea. On Friday evening, please join the D.C. Young Alumni Chapter, the Black Alumni Alliance, the Latino Alumni Alliance, and the Pride Alumni Alliance for the annual All-Alumni Party, which will be held at The Front Page in Dupont Circle beginning at 8 p.m.

On Saturday, plan to join President Neil Kerwin, SPA/BA '71, as he gives an official welcome to alumni, parents, and students. You don't want to miss the opportunity to hear President Kerwin give remarks about his vision for the future of the university. After the welcome, join us at the Amphitheatre for the All-American Fall Festival. The Fall Festival will include live music, arts and crafts, and delicious autumn fare. After the food and entertainment, join the AU community for the official groundbreaking ceremony for the new School of Communication building. The rest of the evening is filled with events such as the SPA Election Panel, the Multicultural Alumni Reception, the Gospel Extravaganza, the Alumni Awards Ceremony, and reunion celebrations for the classes of the 1990s, 2002, and 2007.

Registration for All-American Weekend is opening in just a few days. If you haven't already, please be sure to create your profile on our online community (alumniassociation.american.edu) so that you can register for All-American Weekend events, and reconnect with fellow classmates who are also a part of the community.

The Alumni Association is very excited about All-American Weekend 2012. It is our hope that you experience a reunion like never before, and that you leave with many memories and new acquaintances. We look forward to seeing you in October.