Alumni
Alumni Admissions Interview Brought Student to AU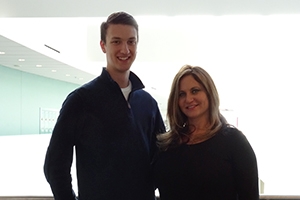 This February marks the one-year anniversary of a chance meeting between American University Alumni Board member Lisa Rosenthal, SPA/BA '97, Kogod/MBA '01, and Chris Lay, SIS/BA '18.  
Lisa, an active AU alumni admissions volunteer, was randomly assigned to interview Chris during a prospective student interview blitz held each winter at the Katzen Arts Center on campus. "He was very passionate about studying internationally and very clearly ready for the next stage of his life," recalls Lisa. Chris happily completed his first semester at AU and is planning for his future. But, had he not been interviewed by Lisa, Chris might be attending a university in Europe instead. 
Chris describes how Lisa's passion for the university helped him recognize that AU was a better place for him. "She made me realize that although it may have seemed that going abroad for an education would be a good decision, I would ultimately be putting myself in a better place by attending AU," says Chris.
Lisa recalls that she and Chris spent a lot of time talking about career opportunities and AU's study abroad program. Chris decided to attend AU because he believed it would provide an opportunity to learn a different culture while studying oversees but also access to internships in D.C.
Like many freshmen, Chris is uncertain what he'd like to do once he graduates. He plans to major in international studies and was drawn to AU because of the reputation of that program as well as the school's location. He also has found time to be involved with a soccer club during his first semester on campus. "Being in D.C. allows for much more opportunity to experience my studies on and off campus as well as provide for some interesting internship opportunities," he adds. 
Chris grew up in the small town of Burtonsville, Maryland, located about 27 miles from Washington. Having grown up in the metro area, he was able to visit the city many times but feels as though he's never lost his curiosity for it. His favorite spot is the National Gallery of Art. "The fact that we have such a well-stocked and free gallery in town is wonderful," says Chris. 
Lisa is the CEO of The Mayvin Consulting Group in Alexandria. Mayvin provides project management and operational services to clients at the Department of Defense and Department of Homeland Security. She is also chair of the alumni affinity outreach committee of the AU Alumni Board. 
As his second semester at AU begins, Chris plans to apply for summer internships in D.C., while Lisa participated in the winter interview blitz at Katzen again this month. She continues to enjoy interviewing prospective Eagles like Chris. "They are so ready to tackle the world and don't have any limitations on their possibilities," states Lisa.
It is clear that this unplanned meeting between Chris and Lisa made an impact on them both. They communicate about every six weeks and Lisa continues to enjoy engaging young people and watching them grow. "He has a dynamic personality that will fit in fantastically with the AU culture. He will ultimately be very successful," declares Lisa.