Alumni
60 Alumni Artists Featured in Fall Exhibition at AU Museum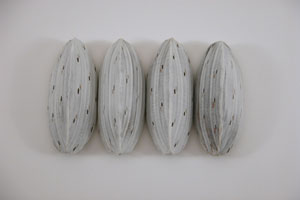 The American University Museum at the Katzen Arts Center is again filled with an array of shapes and colors, sculptures and canvas, by talented alumni-artists from across the country.  The new exhibit, RE-VISION: American University Alumni, opened on August 31 with nearly 100 works by 60 alumni artists and will continue through the close of All-American Weekend on October 24.
The selection committee for RE-VISION aimed to represent the different styles of artists at AU over the years, says museum curator and director, Jack Rasmussen, CAS/MFA '75; CAS/MA '83; CAS/MA '91; CAS/PhD '94. "Today, AU is a figurative school.  Most of our newer work is abstract.  But, 50 years ago, AU's style was all about the Phillips Collection," says Rasmussen.  That shift in style can be seen in the works chosen for the exhibition. 
Bradley Chriss, CAS/MFA '08, worked with former classmates Timothy Campbell, CAS/MFA '08, and Amy Misurelli-Sorensen, CAS/MFA '08, on their piece, Communion, a multimedia piece incorporating a painting mounted on the ceiling, a series of still photographs in a video mounted on the wall, and an arrangement of tiles laid out on the floor.  The trio incorporated the title of the show into their work.  "The title, RE-VISION, played a passive but important role in this piece," said Chriss. "All three of us drew on subjects we were working on during our time at AU, even though we have evolved as artists since then."
Chriss, Campbell, and Sorensen conceived of their piece specifically for this exhibition. Despite living in different parts of the country and not communicating regularly, they knew one another from their time at AU and had a shared regard for each other's work so they were able to create a piece of which they are all proud.  "It speaks to a mutual respect and an article of faith in your fellow collaborators… a piece that does not otherwise portray that," noted Chriss. 
Rasmussen said the most significant challenge in the selection process for RE-VISION was getting the word out. Although there's a core group of AU alumni artists who are still in touch with the university and Rasmussen, there are many more out there who are creating incredible work but haven't kept up with the alumni network. 
He encourages alumni to keep the Office of Alumni Relations up to date about where they are, what they are doing, and how they can be reached, so he can make known future opportunities like RE-VISION.  "I hope this exhibit inspires more alumni to come back to campus and see what a beautiful space Cyrus and Myrtle Katzen made possible. It is the envy of every university in the world," says Rasmussen.