Alumni
Alumni Board Seeks New Members for 2013-2015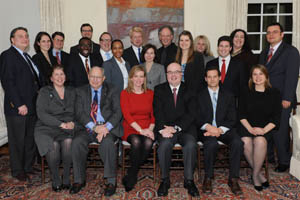 Looking for ways to reconnect with your alma mater? Interested in helping make key decisions about programming and outreach to your fellow Eagles? Larry Pockers, SPA/BA '96, was, and now he says, "Being a part of the alumni board has brought back so many of the great feelings I had for the university as an undergraduate. Getting an insider's view of everything that is taking place on campus and in the larger AU community, and being an ambassador for and to the alumni, has reinforced for me all the reasons why AU is such a phenomenal school."
The Alumni Board is currently accepting applications for the coming 2013-2015 term. Any graduate of AU, whether undergraduate or graduate, is encouraged to apply. Here are the details:
Each term of office lasts two years, and each member can serve up to two consecutive terms.
Board members must attend four meetings in D.C. per year, and serve both as stewards to and for the general alumni body.
Members are expected to represent the board at AU alumni events, positively promote the university, and financially contribute to the university with a gift of $1,000 per year.
While the nominations process for the board is extremely competitive, membership is quite rewarding. Members play an active role in guiding the efforts and initiatives of the Office of Alumni Relations and serve as national, regional, and international AU ambassadors.

"One of the best 'fringe benefits' of being on the alumni board has been the development of friendships and professional contacts with my fellow board members, and with members of the university's administration," says Pockers. "For anyone looking to give back to the university and, at the same time, develop contacts that can help in his or her career, I highly recommend Alumni Board service."
Applications are due October 5. Once the nominations committee reviews the applications, a slate of nominees will be submitted to board president Erin Fuller, SPA/BA '93, SPA/MPA '94, for approval and appointment. New board members will assume their responsibilities in January 2013, following a welcome dinner at the President's House.
"Volunteering as a board member is a great way to get involved and give back to AU," says Sandra Walter, Kogod/BSBA '86, chair of the Nominations Committee. "If you've been attending AU events, mentoring students, or supporting the Annual Fund, now is the time to consider using your professional talents in a leadership role that has its own rewards, including working with a diverse and accomplished group of alumni who all believe in AU's role as an educational leader."
To nominate yourself or a fellow alum, submit an application and a current resume online by Friday, October 5. Questions? Contact Tara Lang, director of alumni programs, at 202-885-5921.