Alumni
More than a Tradition: The Culture of Service at AU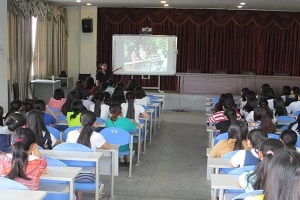 At the heart of every AU Eagle is a desire to serve: serve our community, our country, our world. It is one of many characteristics that defines each member of the university family.

As the country celebrates National Volunteer Month, it comes as no surprise that American University is at the forefront of global volunteer service. Recently, the Peace Corps named AU as one of their top volunteer producing schools. The university took second place in the category for medium colleges and universities (schools with an undergraduate enrollment between 5,000 and 15,000).

For a number of students and alumni, the school's connection with Peace Corps was a big influence on their decision to attend AU.
 
"I applied to AU after seeing that they participated in the Master's International program." said Sarah Colten, SIS/MA '15, who served in San Ignacio, Paraguay from 2012-2014. "The idea of combining years of real-life experience and classroom learning seemed too good to pass up!"

"The Peace Corps provides an indispensable opportunity for young people out of college to put their unique skills to work making a difference for communities around the world," Peace Corps Director Carrie Hessler-Radelet said. "Volunteers make lasting change by living and working at the grassroots level in their communities of service and using their talents to tackle some of the most critical challenges in international development."

Kyle Livington, SIS/MA '15, worked in Thailand as a Community-Based Organizational Development Advisor, focusing on youth development, gender equality empowerment, sexual health, and technology. Livingston helped implement a new health education curriculum for high school students during his service. The areas of focus included LGBT awareness, gender equality, nutrition, sexual health, substance abuse, and healthy relationships.

"I wanted to expand my health experience in order to become a more competitive applicant for medical school" Livingston said.

Many alumni have continued their service work in Peace Corps, and other service organizations, beyond their time at AU.