Alumni
Service-Minded Alumni Seek Offices Large and Small this Fall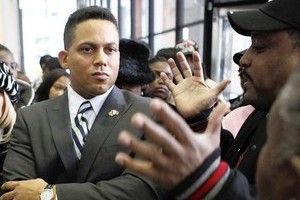 Christopher Cooper, CAS/PhD '95, never thought he would run for mayor of Chicago, but he has always held political ambitions. The former marine, turned police officer, turned civil rights attorney imagined he would become a big city police chief or a federal judge. "It's something that never dawned on me," says Cooper of his candidacy's beginnings.

After some gentle, and not-so-gentle, persuasion from friends and supporters, Cooper set out on the campaign trail, confident he could compete with current Chicago mayor Richard Daley's political machine. "In places where people want change, there is a good opportunity for an outsider," he says.

Shortly after Cooper began his campaign, Mayor Daley announced he would not run for re-election, at times making the Chicago mayoral race look like an all-comers track meet rather than a sophisticated political match. With popular Cook's County Sheriff Tom Dart on the ballot and Obama's former Chief of Staff Rahm Emmanuel threatening to enter the race at any time, Cooper still feels that he has "a good chance" given the longevity of his campaign and the division of votes with more candidates in the race.

A New Yorker by birth and a Washingtonian for much of his adult life, Cooper's background is a mural to public service. After serving in the Marines, Cooper started working beach patrol in New York state. He then policed Washington, D.C.'s fifth and seventh Districts by night, while earning a PhD in Sociological Jurisprudence from AU's College of Arts and Sciences. 
The dual experience of front-line police work paired with a constant stream of data sets and quantitative analysis makes Cooper confident he can match results-driven policy with the diplomacy that the citizens of Chicago need and deserve. "The whole experience has been surreal," notes Cooper of his drive to lead America's third largest city.

Many AU Alumni Running for Office
While the Chicago mayoral race won't be decided until February 22, 2011, be sure to watch the returns on Wednesday, November 3 for the 19+ other AU alumni running for office.

Don't see your classmate-turned-candidate listed below? Contact us at involved@american.edu so we can include their result in the November issue of Alumni Update.

Stephen Archambault, SPA/BA '90, Smithfield (R.I.) Town Council member
Running for: Rhode Island Attorney General

Mike Case, SPA/BA '75, Former police officer and U.S. Army National Guard Member
Running for: Massachusetts State Representative

Barbara Ferris, SPA/MPA '85, President, International Women's Democracy Center
Running for: Cuyahoga (Ohio) County Council

Tim Huelskamp, SPA/PhD '95, Kansas State Senator
Running for: U.S. House of Representatives (R-KS)

Max Kinman, SIS/BA '06, Recent graduate, Indiana University Mauer School of Law
Running for: Ohio State Representative
 
Don Manzullo, SPA/BA '67, U.S. Representative (R-IL)
Running for: re-election

Betsy Markey, SPA/MPA '83, U.S. Representative, (D-CO)
Running for: re-election

Jim McGovern, CAS/BA'81; SPA/MPA '84, U.S. Representative (D-MA)
Running for: re-election

Jason Moon, KSB/BSBA'01, Attorney; member of Lee Memorial Health System Board of Directors; and Treasurer, Family Health Centers of Southwest Florida  
Running for: Florida House of Representatives

Sam Olens, SIS/BA'78; SIS/MA '80, Immediate past chair, Cobb County Board of Commissioners and Atlanta Regional Commission
Running for: Georgia Attorney General

Mike Panetta, SPA/BA '93, SPA/MA 94, D.C. Shadow Representative
Running for: re-election

David Rhem, WCL/JD '85, Attorney, Varnum LLP
Running for: Ottawa County, Mich. Circuit Court Judge

Loretta Sanchez, KSB/MBA'84, U.S. Representative (D-CA)
Running for: re-election

Bill Shuster, KSB/MBA '87, U.S. Representative (R-PA)
Running for: re-election

Mark Spencer, WCL/JD '84, Attorney at Law
Running for: State Attorney, Prince George's County, Md.
 
Paul Strauss, SPA/BA '87; WCL/JD '93, D.C. Shadow Senator
Running for: re-election

Amy Hope Witryol, CAS/BA '79, Former Senior VP and Senior Risk Manager for Fleet Bank
Running for: New York State Senate

Chris Zimmerman, SPA/BS '81, Vice chair, Arlington County (Va.) Board
Running for: re-election