Alumni
Clawed had a Ball!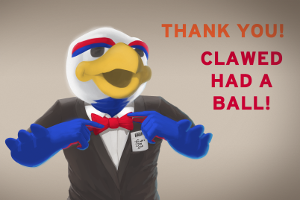 Founders Day 2016 was the most successful giving day yet! In 36 hours, 457 AU Eagles from all over the world gave over $54,000. Now that's school spirit!
Thank you, Rick Davis, SPA/BA '74, for the challenge gift that inspired our community to come together in this way.
If you were one of the 457 people who helped Get Clawed to the Ball - thank you! If not, you can still be a part of this record breaking milestone. Show your support by making a gift to a specific school, organization, scholarship, athletic team, or part of campus that you feel connected to.
Also be sure to check out the roundup of the giving day on Storify! Join the conversation with fellow alums by using the hashtag #getclawedtotheball on Facebook, Twitter, and Instagram.