Alumni
Four New Members Selected for AU Alumni Board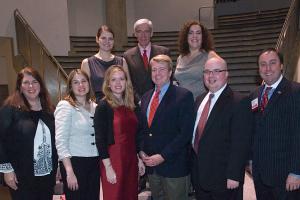 The AU Alumni Board is proud to introduce its newest crop of at-large members.  These four alumni bring even more diversity to an already expanded and dynamic board.  Board representation encompasses all five schools and colleges, five decades of graduating classes, and five states, plus the District of Columbia.
The new members join the existing board, consisting of president Erin Fuller, SPA/BA '93, SPA/MPA '94, vice president Chip Griffin, SPA/BA '94, secretary Sandra Walter-Steinberg, KSB/BSBA '86, past president Brian F. Keane, SPA/BA '89, and at-large members Andrea Agathoklis, SPA/BA '98, James Callan, SPA/BA '81, Jennifer Collins, SOC/BA '94, Ed Faberman, SPA/BA '67, Krassi Genov, SOC/BA '96, Dennis Grubb, SIS/MA '68, Z. Selin Hur, SIS-CAS/BA '94, Bailey Kasten, SPA/BA '05, Judy Meritz, SPA/BA '73 (re-elected for another two-year term), Boots Nissenbaum, KSB/BS '68 (re-elected for another two-year term), and Larry Pockers, SPA/BS '96 (re-elected for another two-year term).
Without further ado, it is our pleasure to introduce your new Alumni Board members.
Jean Accius, II, SPA/PhD '08, lives in Laurel, Md., with his wife and six-month-old son.  He is currently the project officer for several national demonstration programs within the Centers for Medicare & Medicaid Services.  He is also an adjunct professor in the School of Public Affairs at American University.  Jean sits on the Advisory and Editorial Boards for the American Society on Aging's New Ventures in Leadership Program and the Network for Multicultural Aging (NOMA).  Jean enjoys spending time with his family, reading, and golfing.
Jerry Malitz, CAS/BA '72, founded his own consulting company, MCS . . . Strategic Technology Solutions, in 2007.  Prior to this, he served as the first chief information technology officer at the Institute of Education Sciences within the U.S. Department of Education.  Jerry has worked extensively in all areas of education and has produced several books, videos, and training sessions on the use of technology in and for education.  A Washington, D.C. resident, he is an active participant in baseball and football leagues.
Christopher Mohart, SPA/BA '99, lives in Kansas City, Mo., and is an attorney with Polsinelli Shughart PC, practicing construction law.  He received his law degree from Boston College.  Chris remains active with AU by serving as a volunteer for the Admissions department.  In his spare time, he enjoys spending time with family and friends, traveling, and reading.
Joe Vidulich, SPA/BA '08, is public policy manager for the Northern Virginia Technology Council, the largest technology council in the country.  In that capacity, he directs lobbying activities before state policymakers and elected officials.  Joe resides in Herndon, Va., and is an AU athletics enthusiast, particularly when it comes to AU's men's basketball team.