Alumni
From Classmate to Mate, Romance Blossoms at AU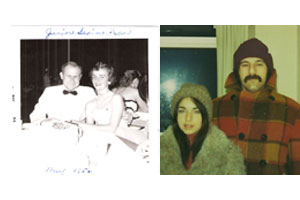 When my daughter discovered that my husband, Larry Muenz, SPA/BA '73, and I had our first date on Valentine's Day, her observation was that we had set ourselves up for major disappointment because having a first date on Valentine's Day means it has to be utterly romantic, perfect in every way. 

As it turns out, that first date in 1970, almost 40 years ago, led to a happy 35-year marriage – that began when we met as freshman at AU. 

Inspired by the "So Happy Together" reception planned for February 10 (rescheduled for March 16 due to snowstorm), I undertook a very unscientific study of seven couples who met while students at AU. All of the couples agreed that had they not attended AU, they would never have met. Here are the stories of how they met.

Milton and Patricia Cerny, both CAS/BA '57, have been married for 52 years. Milton says he has great memories of Mary Graydon, which, at the time, housed the women's dormitory and sororities. "My fraternity, Alpha Sigma Phi, would serenade the women who were pinned to our brothers," he remembers. "Each spring, the fraternities and sororities would hold a songfest where the outstanding fraternity men and women were awarded a scholarship cup."

AU president Neil Kerwin, SPA/BA '71, and his wife, Ann, CAS/BA '71, met in spring 1970, when both were juniors, at a party given by another AU student who lived in Glover Park. "We spent many afternoons in Mary Graydon and sitting on the lawn of the quad with good friends; the Ward Circle Building, as Neil was a political science major; the Watkins Art Building, as I was an art history major," says Ann.

Taryn Houghton Rosenkranz, SPA/BA '98, SPA/MA '00, and Eric Rosenkranz, CAS/BS '98, also met through friends. "We met at the old—and now defunct—bar, the Cellar, at their infamous Friday night $5 all-you-can-drink happy hour," says Taryn. "We had our first lengthy conversation, where we really got to know each other better, outside the Bender Library near the clock. The night we got engaged, Eric organized a pretty lengthy scavenger hunt where at the end he asked me to marry him, but along the way I had to go all over the city to places that meant something to us to get clues. One of them was the clock outside the library."

The Rosenkrantz's were married on campus at Kay Chapel. "We decided to get married at AU because we figured, without AU, we never would have met each other," she says.
For Alumni Board member Chip Griffin, and his wife, Jen, both SPA/BA '94, finding love was as easy as opening the door. "We were literally next-door neighbors on Anderson's third floor…if it weren't for the room assignment, we might not have met!" says Chip. It also helped that she worked on campus. "Jen worked at Mail Boxes Etc. (now the UPS Store) down in the tunnel, so I spent a lot of time there hanging out," he notes.

"She was a Ted Kennedy Democrat and I was a Ronald Reagan Republican," he adds. "It created an interesting dynamic in our initial friendship. Fortunately, she and I are both Red Sox fans so that provided some common ground."

Barbara Gross, CAS/BA '72, and Lenny Jacobs, SPA/BA '72, will celebrate 35 years together this year with their two daughters, ages 29 and 26. "I was sitting on the wall in front of Letts Hall and Lenny came by and, as we were talking, he tied my two sneaker laces together so I wouldn't be able to walk once I got down from the wall. He's maintained to this day that he needed to do that in order to break the ice. I guess you could say that the wall in front of Letts Hall brings back the greatest memories for us!" she says.

How many more stories like this are out there? "We know of at least several thousand alumni couples," says director of Alumni Programs Tara Lang. One thing's certain: Alumni leave AU with acquired knowledge and skills…and sometimes the love of their lives, an unintended, but happy consequence of studying at AU.