Alumni
On Founder's Day 2016: "Get Clawed to the Ball"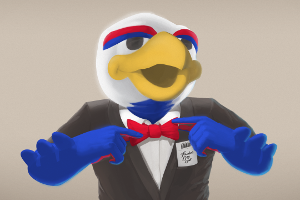 This Founder's Day, we invite you to join your fellow alumni in support of AU. To commemorate the university's founding, we will host our second annual giving day – and we want you to get involved!
This year the theme is "Get Clawed to the Ball", a nod to the tradition that is the Founder's Day Ball, as well as how notoriously hard it is to get tickets. Our goal for the event is 400 alumni donors in a 36 hour period (a new record for AU!).
We know that the AU community has the passion and desire to create meaningful change in the world. Students, alumni, and faculty make their marks on countless businesses, philanthropic projects, and social initiatives every day. We believe that it's this spirit that helps define our community, and we want giving day to be living proof that AU alumni are active, loyal, and supportive. Best of all, YOU get to direct where the money goes – join to support your favorite school, program, or initiative, and encourage your friends to do the same.
So how can you get involved?
On February 24th, be sure to check the website periodically to see Clawed's progress!
Share posts on social media about what school, program, or initiative you are supporting with the hashtag #getclawedtotheball.
With your help, we can shape the future of AU and support current and future AU students. Together we can Get Clawed to the Ball!