Alumni Success Story
Giving Thanks with Pride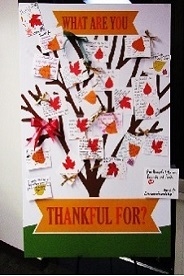 Based on a Thanksgiving trend designed by Millennials – "Friendsgiving" – the AU Pride Alumni Alliance conceived of an idea that would a family-style dinner designed to bring together LGBTQ and ally students on Thanksgiving Day.  

With many students unable to travel long distances for this holiday and many more LGBTQ students unable to celebrate their full identity among their traditional families, this event sought to create inclusion, comfort, and good old fashioned fun. The event was made possible, in part, due to the generous support of AU Alumni Board member Robert Johnson, SPA/BA '81, and Christine Johnson.

Keeping with the theme of bringing together diverse people and traditions, the short program was opened with remarks from the office of alumni relations followed by various expressions of reflection and gratitude. Some students practiced a moment of silent prayer while others read and reflected on messages of gratitude. The most popular pledge of the day was authored by South African revolutionary Nelson Mandela: "We pledge ourselves to liberate all our people from the continuing bondage of poverty, deprivation, suffering, gender and other discrimination."

The catered dinner was served family-style with traditional sliced turkey and cranberry chutney, pumpkin seed-encrusted filet of salmon, and Italian meatballs complimented by an array of steamed vegetables, creative sides, and delicious desserts.

Students smiled widely as they enjoyed plates piled with food and engaged in conversation with one another while the Macy's Thanksgiving Day Parade and A Charlie Brown Thanksgiving played on the projection screen. The joy continued when students were told that they could take leftover food with them. (What's a Thanksgiving dinner with a "to-go" plate, right?)

Students took advantage of stress relievers provided at the activity and games tables. Almost all left messages sharing for what they were thankful this year. These messages were compiled and posted on a "What are You Thankful For" tree. Here is what some of the students had to say to say about their experience:

"It was really great experience – to meet people I already knew and new people. It was definitely nice to get together with people instead of eating dinner alone in my room." – Lee Clyne, a CAS student majoring in psychology and president, AU Students Against Sexual Violence

"It was a nice experience for students that didn't have the opportunity to go home to feel like they were home." – Alexandra Moyer, a CAS student majoring in anthropology.

Though the semester may have been unusually stressful for many of these students, Thanksgiving Day proved to be a positive and memorable one with their AU family and with pride.