Alumni
Greetings from Chip Griffin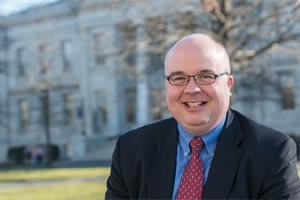 Well, this certainly has been a winter for snow in the U.S.! Up here in New Hampshire, we're pretty used to it. That said, I'll be happy when it melts, since unlike my wife and children, I'm not a skier.

Speaking of spouses and significant others, I hope all of you had a great Valentine's Day. This month we have an update on the AU sweethearts project -- something I can relate to since I met my wife at American. We were next door neighbors in Anderson Hall -- she was a sophomore Ted Kennedy Democrat from Massachusetts, while I was a freshman Ronald Reagan Republican from New Hampshire. Fortunately, we had the Red Sox in common!

As the weather starts to warm and we all start to get visions of spring in our minds, you might be thinking of traveling. That's a great opportunity to check out the alumni travel program. Of course, February is also Black History Month, so we have a feature story in
this issue on that topic, as well. Plus, be sure to read up on the success of AU's men's basketball teams if you haven't heard about their seasons.

- Chip