Alumni
Greetings from Chip Griffin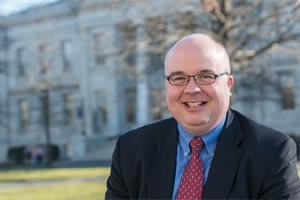 We're just hours away from the start of All-American Weekend. It's one of my favorite times of the year since I get to see so many old friends.
This year will be particularly special for those Eagles who are able to make their way back to campus for a visit. In the last 12 months, we have seen the opening of a new residence hall (Cassell Hall) and the re-opening of the McKinley building, now the freshly renovated home for the School of Communication.
And who doesn't remember the Nebraska Avenue parking lot? Much of that blacktop is now in the process of being replaced by some beautiful new buildings (not to mention trees and grass!). It will provide more space for classrooms, research, faculty, and student residences.
On your way back to 4400 Mass Ave, don't forget to drive by the Tenley Campus -- or gander out the window of the shuttle bus if you go that route -- and see how the new law school building is coming along.
It's truly a time of change on campus. I hope to see you there.
- Chip