Alumni
Get Your Hands Dirty for a Good Cause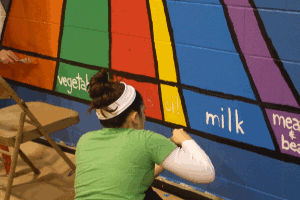 "It feels so rewarding to pass by a school and know you have had an integral part in making it a better place" says Rachel Centariczki, SPA/BA '07, special events cochair for Hands on D.C. "It's inspiring to enter a classroom and see all of the hours of dedication Hands on D.C. volunteers provide year after year."
On May 15, D.C.-area alumni will give back to the community by joining the Young Alumni Chapter (YAC) to volunteer at the Hands on D.C. Work-a-thon.  Hands on D.C. is a nonprofit organization aimed at improving schools and providing stronger futures for students in the District. Each spring, the YAC participates in the event, which mobilizes more than 2,000 volunteers to work on projects at 30+ D.C. public schools.  Volunteers get involved in a range of activities, from brightening school walls with a fresh coat of paint, to sprucing up playgrounds and gardens.  Funds raised by participating groups support college scholarship programs.
A completely volunteer-run organization, Hands on D.C.'s Executive Committee is full of impressive AU alumni who work countless hours throughout the year to support the nonprofit.  Audrey Pernik, SOC/BA '07, one of two public relations cochairs, explains her role is to "develop and execute earned media strategies to enhance visibility of Hands on D.C. fundraising events, special projects days, and signature Work-a-thon event."  She also manages internal communications and social media outreach.
As cochair of the Sites Committee, responsible for selecting the 27 schools and 150 projects volunteers will work with this year, Karl Horberg, SPA/BA '04, has been instrumental in planning and executing the upcoming Work-a-thon.
Centariczki is responsible for coordinating a number of smaller events throughout the year, such as March Mural Madness.  The March 7 event attracted 75 local artists who painted murals in five school gyms.  Centariczki also coordinates fundraisers, such as happy hours and wine tastings, and is always looking for new recruits.
The Executive Committee is excited to welcome the troops of volunteers who will descend upon D.C. schools on May 15. Why give up a Saturday, one might ask? "To see a student's eyes light up the moment she walks into her newly painted gym" Centariczki says.  "Now, that's a feeling of satisfaction that just can't be described in words.  It makes all the hard work worth it."
Meet Pernik, Horberg, Centariczki, and members of the Young Alumni Chapter at the Hands on D.C. Work-a-thon on May 15.