Alumni
Marking the 50th Anniversary of JFK's Speech on Campus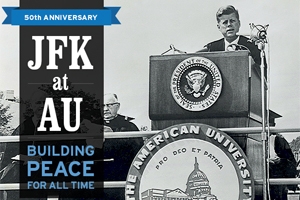 "I have [therefore] chosen this time and this place to discuss a topic on which ignorance too often abounds and the truth is too rarely perceived—yet it is the most important topic on earth: world peace."

These were the words of President John F. Kennedy on the occasion of American University's commencement exercises in June of 1963. The nation's Commander in Chief visited campus to congratulate AU's graduates, to encourage them to serve as agents of peace, and to announce that the United States would stop testing nuclear weapons and work for a comprehensive ban treaty.
On Monday, June 10, AU celebrated the 50th anniversary of President John F. Kennedy's historic speech, "A Strategy of Peace," which he delivered during the 1963 American University commencement exercises.

"The speech was one of the greatest by any modern leader," said Jamil Jreisat, SPA/BA '63, who is now professor of public administration and political science at the University of South Florida. "For years, I talked about that event as one of the most memorable and the speech by John F. Kennedy as the most responsible and eloquent by any president in modern history. It was a beautiful day where a few hundred people gathered outside at the wonderful American University green lawn." See other reflections from members of the class of '63.
As we continue building peace for all time, Kennedy's words ring as true today as they did 50 years ago. More than 370 news outlets have mentioned the speech in stories this year. "When Presidential Words Led to Swift Action" from The New York Times discussed President Kennedy's speech at AU. A May 30 story by The Washington Post about whether graduates remember commencement speeches featured alumni Carl Cook, SPA/BA '63, and Faith Shrinsky Kirk, CAS/BA '63, who shared memories of the day JFK spoke on campus.

Watch AU's video commemorating JFK's speech, see the speech itself, and learn much more about AU's commemoration of the event at www.american.edu/jfk.