Alumni
Klima and Kurcova to be Inducted into 2010 Athletics Hall of Fame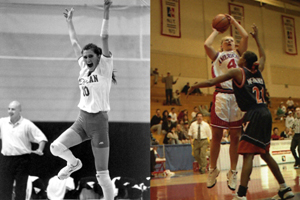 The American University Department of Athletics and Recreation will honor the achievements of two alumni-athletes, basketball's Mary Klima, KSB/BS '98, and volleyball's Vendula Kurcova, KSB/BS '99, with induction into the Stafford H. "Pop" Cassell Hall of Fame on Saturday, February 6, 2010.

Two Women Worth Watching
Klima was a stand-out member of American's 1998 WNIT team, the first women's basketball team in AU history to reach the postseason. As the most prolific rebounder in university history, Klima leads the all-time list in career (881), single-season (304) and single-game (24) rebounds. Additionally, Klima is the third-leading scorer in American history with 1,477 points in her career, and holds the second highest single-season total (533 in the 1997-98 campaign).

Kurcova was a dominant force during her reign on the Eagles' volleyball squad from 1995-99. She led the team to back-to-back Colonial Athletic Association Championships in 1997 and 1998, the first conference titles in school history, leading American to its first ever appearances in the NCAA Division I Women's Volleyball Tournament. Kurcova was a three-time Academic All-American pick and a three-time All-CAA conference selection. Currently, Kurcova ranks fourth all-time in school history in kills (1,568), fifth in kills per game (3.50) and sixth in digs (942).

Event Details
To kick off the events on February 6, 2010, Klima and Kurcova will be recognized at halftime of the American men's basketball game versus Lehigh at 2 p.m. in Bender Arena. Following the game, all Hall of Fame inductees – past and present - and their guests are invited to join alumni, coaches, donors, and friends at the Athletics Auction and Reception in the Mary Graydon Center. The main event will begin at 6 p.m. with cocktails, followed by dinner and the induction ceremony. Proceeds from the event will go to the Eagles Club to help support the scholarship and operational costs of the athletics department, directly benefiting American's student-athletes.  

Event History
Stafford H. "Pop" Cassell was a legendary teacher, coach, and vice president at AU. Sponsored by the Cassell family, the hall of fame was created in 1969 to recognize the achievements and contributions of individuals associated with American University Athletics and Recreation.

For more event information and to RSVP for the festivities, please contact Megan Sturges, assistant director of Athletics Development, at 202-885-3104 or sturges@american.edu.