Alumni
Get Involved as AU Celebrates 50 Years of McDowell Hall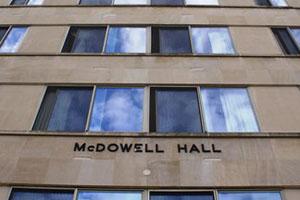 This year McDowell Hall is turning 50 years old. To commemorate this momentous occasion, the Alumni Association is teaming with Housing & Dining Programs to spend the year celebrating. Over the past 50 years McDowell Hall has undergone a number of changes. It began as a women's residence complex and is now a newly renovated coeducational facility.  

In order to make this year truly memorable, we need your help! We are hoping to collect memories from alumni to showcase in McDowell Hall during the many events we are holding this year, including AU's All-American Weekend for alumni, parents, and friends. If you have any pictures, memorabilia, quotes, or memories, we ask that you share them with us. These items will be showcased at various events and publications used during the year.

If you would like to contribute, please send items to:

Matthew Le Brasseur
Housing & Dining Programs
4400 Massachusetts Ave NW
Washington DC, 20016

lebrasse@american.edu

*If you would like the items returned to you please, note this when you send them!

Thank you for your contributions. We cannot do this without you!