Alumni
Ideas into Action. Action into Service. Continuing the Legacy.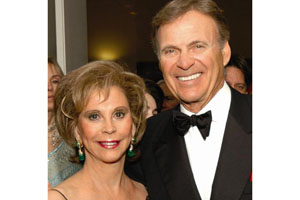 At American University, our alumni are our best examples of the university's time-honored traditions of academic excellence and civic service. These traditions are immortalized in the stories of alums whose careers and passions have spread them across the globe to work in nearly every sector of both public and private enterprise. AU instills in its students an ability to turn ideas into action and action into service. And your support helps us to continue this legacy.
Support for American University comes in many forms - financial, volunteer, or even the retelling of a favorite AU anecdote to family and friends. Your support for AU can impact the University for generations to come. As alumni, the Office of Planned Giving can provide you with important information that will help you protect your assets, safeguard your loved ones, and leave a philanthropic Legacy at AU.
Consider the Legacy of AU alums Ambassador Stuart A. Bernstein Kogod/BS '60 and wife Wilma Estrin Bernstein CAS/BA '60. Stuart, known in real estate circles for his leadership of the Washington-based Bernstein Companies, has served as vice chair of AU's Board of Trustees, chaired the board's Development Committee, promoted the university's Capital Campaign, chaired the Alumni Association Annual Fund, and founded AU's real estate fraternity Rho Epsilon. He and Wilma recently served as honorary chairs of American University's 2010 Golden Eagles Reunion. Beyond AU, the Bernsteins have served in many civic leadership roles. Their legacy at AU is also philanthropic. The Bernsteins are lifetime members of the university's President's Circle and have guaranteed American University's future by naming AU among the beneficiaries of their charitable estate plans.
Including AU in your estate plans through a bequest or other beneficiary designation is one of many ways you may have an impact on the opportunities available to future students. Making flexible plans now also provides you with the continued option to further focus your AU philanthropy over time.  
The Bernsteins are passionate about supporting AU, and they will continue to impact the university for years to come. If you would like to learn more about how they and you too can leverage a family legacy and help others to transform ideas into action and action into service please visit these Web sites:

Read Wilma Estrin Bernstein and Ambassador Stuart A. Bernstein's full profile.

Learn more about Charitable Estate Planning and Continuing the Legacy.

Ideas into Action. Action into Service. Continuing the Legacy.